Nisbet's nose for genius turns up NW artist
Leno's World – a lecture and slide show presentation by Ancient Places author Jack Nisbet
Tuesday, October 4th at 7 p.m.
Free to the public (a $5 donation is requested)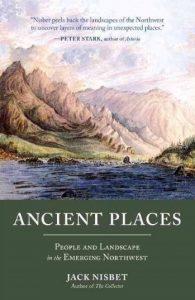 Popular northwest author Jack Nisbet has a nose for genius and his depiction of terra-cotta craftsman Leno Prestini in his book "Ancient Places" does not disappoint. Nisbet, who has made a career of unearthing interesting and important, but relatively unknown historical figures, has uncovered a true gem of a character in Prestini. Nisbet delivers a talk and slide show about Prestini at the Wenatchee Valley Museum & Cultural Center.
Nisbet's reading and accompanying images explores the eccentrically brilliant life of Prestini, the landscapes that shaped him, his relationship with the Washington Brick and Lime Company and the impact of his artwork on the place where he lived.
From the late 1920s through the early 1960s Prestini, a terra cotta modeler and visionary artist, seemed to channel the entire Inland Northwest into his own personal creations.  Each piece reflects the influences of a talented, insatiably curious artisan growing up in a company town far from his family's roots in Northern Italy.
"… Prestini emerged as a unique figure in local lore, proving himself time and again to be a gifted design artist crossed with a clever engineer, a broad conversationalist, and a mad adventurer." Nisbet writes. "He seemed to breathe in the essence of northeastern Washington – including the Clayton brick plant and its machine shop; the region's sawmill and mining culture; its mountains, coniferous forests, and glacier-carved lakes; tribal culture and extended trail-horse rides; the taverns, churches, and country music – and spit them back out in ways that were entirely personal."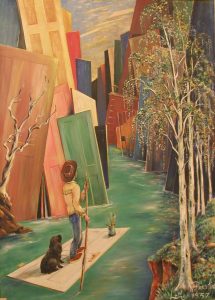 Though Prestini's life is tied to the small company town of Clayton, WA, his work did draw attention elsewhere. A collection of his paintings was featured in the arts section of the Sunday Los Angeles Times and was photographed for a never-published spread in Life Magazine.
Nisbet, whose books may be purchased in the museum gift shop, has written biographies of fur agent David Thompson and naturalist David Douglas, who provided some of the first written testimony of the Columbia River. He has also worked closely with local tribes to compare their oral histories with early journals, artwork, and photographs of the watershed. Prestini is a featured character in Nisbet's most recent work "Ancient Places," a collection of essays that explore the interplay between people and place through time.
Nisbet's October 4 talk at the museum is free and open to the public. A $5 donation is requested. For more information, call the museum at 509-888-6240.