We're looking for an executive director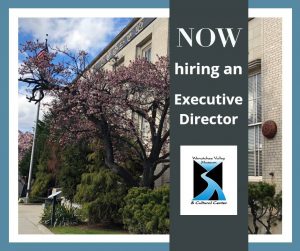 The Wenatchee Valley Museum & Cultural Center's Board of Directors has launched a search to find an Executive Director. At a Board meeting held on June 19, the Board approved selection criteria and a vetting committee. They encourage all highly qualified leaders with non-profit organizational experience to apply. Former Director Sandy Cohen accepted another position and resigned his post in January of this year. 
The next Executive Director will be charged with shaping the vision for the future of the Wenatchee Valley Museum & Cultural Center. Candidates for the role are expected to demonstrate a track record of creative and innovative leadership, excellent management skills, extensive partner engagement, and fiscal sustainability. The next Executive Director will oversee and guide the creation of a Development Team and expand the development efforts of the organization. Previous museum experience is not a requirement, but candidates must be willing to become thoroughly knowledgeable about the Wenatchee Valley Museum & Cultural Center, its collection, history, culture, operations, and constituents. 
Board President Don Gurnard said, "This is an exciting time at the Wenatchee Valley Museum & Cultural Center. We have so many wonderful programs and events happening right now and we are looking forward to meeting the person who will help us carry them forward." 
The application deadline is July 31. More information about the Executive Director search is available at wenatcheevalleymuseum.org
The Executive Director Vetting Committee includes board members as well as independent community members. The committee hopes to screen candidates and recommend the three final candidates to an Interview Committee for consideration by late summer. The community will be invited to meet the top candidates before a final selection is made. 
About the Wenatchee Valley Museum & Cultural Center
Through creative programs, exhibits and publications, the Wenatchee Valley Museum & Cultural Center tells the stories of the people who built, live, work, and play in our community. The Museum strives to foster an appreciation for our collective community memory through: Honoring the Arts, Preserving & Sharing Our History, Celebrating Our Culture, and Exploring Science & Ingenuity.  
The Museum is proud to share a variety of exhibits interpreting life in North Central Washington dating back to the Ice Age. From 11,500-year-old Clovis points discovered in an East Wenatchee orchard to household articles used in Wenatchee homes around 1900, the past comes alive at the Wenatchee Valley Museum & Cultural Center. 
The Museum is a 501(c)(3) nonprofit organization that operates with the support of the cities of Wenatchee and East Wenatchee, and is housed in two historic federal-style downtown buildings that served early Wenatchee as the Post Office and Annex. Darrell Dickeson has been serving as Interim Executive Director since April, 2018.