SEWAPALOOZA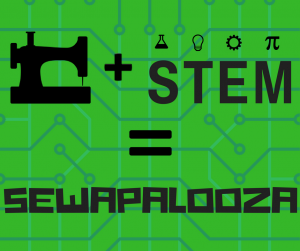 Spring Break Classes April 3rd – 6th
Combining sewing with electronics, students in these two classes will be using sewing machines, conductive thread and hand sewing techniques to create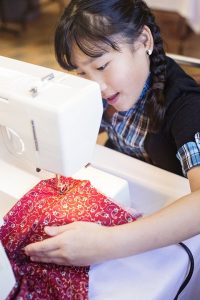 wearable gadgets that light up, play sounds and move. Make an electronic circuit with interesting light effects using sewable LED lights and a programmable board. Then keep sewing your circuit skills and techniques to choose from many soft circuit projects, from light-up superhero capes and stuffed animals to purring animal pillows and plushie game controllers.
Two separate classes are offered; one for grades 3-5 and another for grades 5-7. Class sizes have been kept small to ensure the highest quality of instruction. The older class will pursue more advanced sewing techniques than the younger class. Karen Rutherford and Lara Hays are teaching the classes.
TUESDAY TO FRIDAY, 9AM TO NOON
TUESDAY TO FRIDAY, 12:30 – 3:30PM
Grades 5-7 (Coursework will be a repeat of the morning)
You can register your kids online or contact the museum at 509-888-6240 for more information.
SUPER SUMMER ADVENTURES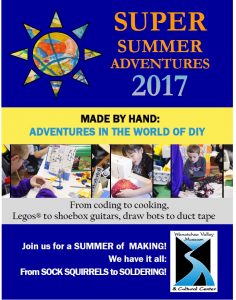 In the summer we offer weekly enrichment classes for students entering 1st through 7th grades. There's a wide variety of morning and afternoon classes for kids entering 1st through 7th grades: science, art, robotics, cooking, drama, engineering, film production – something for everybody! Morning classes are from 9 a.m. to noon; afternoon sessions are 12:30 to 3:30 p.m. All classes are at the Wenatchee Valley Museum except where otherwise noted.