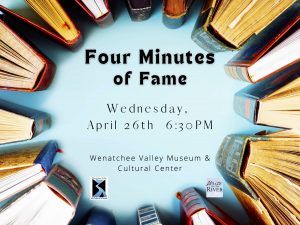 On April 26th, local writers Holly Thorpe and Susan Lagsdin will host Four Minutes of Fame. Come join
Write on the River for a night of wine and spoken word during this free reading event at the Wenatchee
Valley Museum & Cultural Center. Pre-register using the link provided to read your own original
creative writing of any genre, poetry or prose, or just sign up to attend and support local artists. The
event is hybrid, so you can read and/or attend in person or via Zoom. Doors open at 6:30 PM.
Register HERE for Four Minutes of Fame