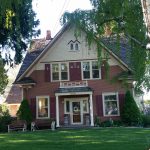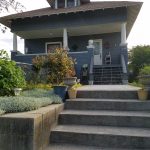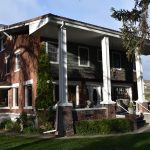 The Wenatchee Valley Museum & Cultural Center, in partnership with the City of Wenatchee's Historic Preservation Board, is proud to present its second annual tour of homes featuring 10 significant structures in Wenatchee and East Wenatchee. This year's tour includes five private homes, the Wells House, The Home of Peace Mausoleum, behind the scenes at the museum and two homes converted to bed and breakfasts. The tour takes place from 10 a.m. to 4 p.m. Sunday, May 20. Ticket are $20 in advance or $25 day-of and may be purchased by going to the museum's website at wvmcc.org or by calling 888-6240.
Guests are invited to step back in time as they experience craftsman and Victorian style architecture dating to the early 1900s. The annual event is intended to recognize and celebrate a number of historic homes and buildings preserved in the communities of Wenatchee and East Wenatchee and to provide an opportunity for the public to become more familiar with the value of historic preservation.
Stops on the tour include:
Wenatchee
Isaac and Helen Bailey home at 232 Pennsylvania Avenue. Built more than 100 years ago, this craftsman-style residence was a popular social gathering place for Helen to host ladies of the Presbyterian Church, the Kensington Club and friends wishing to celebrate significant historical milestones.
Cascadian Hotel at 102 North Wenatchee Avenue. Built in 1929, this building is still the tallest in Wenatchee. Of significant historic note, is the case of Cascadian Chambermaid Elsie Parrish, who sued the West Coast Hotel Company for pay equivalent to the wages paid to men for the same work. Her case rose all the way to the U.S. Supreme Court and resulted in the establishment of a minimum wage for women. Tours of the building are offered on the hour beginning at 10 a.m. Please RSVP for a tour start time to Selina Danko at 888-6242.
Wells House at 9th and Nelson streets in Wenatchee. Situated on the Wenatchee Valley College Campus, this newly renovated single-family dwelling built by pioneer promoter William Timothy Clark was the first home in Washington State to be placed on the National Register of Historic Sites. Its unique architecture, ties to Wenatchee Valley history and its significance as a local landmark helped the home achieve this status in 1973. Several local musicians will play at the Wells House during the tour including: Julie Stone on harp, the violinist group The Rose Trio and Amy Albright on hammered dulcimer.
Home of Peace Mausoleum at 850 South Miller Street. In 1914, the Wenatchee Daily World reported that Seattle promoters would "build a structure of great beauty that will last a thousand years or more." The Beaux Arts style structure built of sandstone with a white marble interior and formaldehyde gas system was designed to house 208 of the city's most important residents.
Former W. E. Whisnand/Herbert France Family home at 1230 Castlerock Avenue built in 1902. This three-story showpiece of a home and garden is the pride and joy of current owner Joyce O'Neal who has filled every nook and cranny of the three-story cross-gable home with little mementos of O'Neal family history. Even the grounds are crammed with mini gardens, each reflecting Joyce's flair for design and a life surrounded by family and friends.
Charles W. and Lillie A. Finlayson home at 129 S. Franklin Street. This 1928 Tudor Revival home features many original details including original shutters, brick detail and leaded window sashes. Original owner, Charles Finlayson, was the president of the Columbia Valley Printing Co. at the time of the home's construction. Current owners are Jim and Ivy Murray.
Julius Weinstein House at 25 N. Delaware. This two-story craftsman home is set among mature birch and maple trees on a lovely corner lot featuring azaleas planted by Julius and Ida Weinstein. The Weinsteins, important community investors and business owners, lived in the home from 1924 to 1977.
Warm Springs Inn & Winery at 1611 Love Lane. The 1917 mansion turned luxury bed and breakfast, is nestled on beautifully landscaped grounds that spill down to the Wenatchee River. First built as a family home, it was used as a sanitarium from World War I until 1940; then it became a working orchard, Arabian horse farm and dog facility and again a family home. Ludger and Julie Szmania are the fifth owners to run Warm Springs as an inn.
Wenatchee Valley Museum & Cultural Center at 127 S. Mission Street. Housed in two former federal buildings constructed in 1917 and 1937, both are listed on the National Register of Historic Places. Today the museum operates as an independent nonprofit with generous support from the cities of Wenatchee and East Wenatchee and a strong membership base. Home tour guests will experience a "behind-the-scenes" tour of the museum featuring areas of the building normally closed to the public.
East Wenatchee
Gensinger House at 1360 Sunset Highway. This classic brick bungalow is surrounded by mature shrubs and deciduous and conifer trees. A circular driveway extends to the back of the house. Research conducted by the current owners indicate that the home was constructed following the Sears Roebuck Catalog floor plan used for the building that now houses the Wild Huckleberry Restaurant.