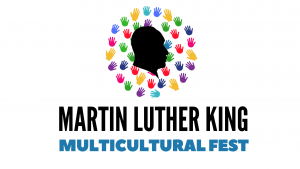 FREE
The annual Martin Luther King Multicultural Fest will be held on Saturday, January 19 from 10:00 AM – 3:00 PM at the Wenatchee Valley Museum & Cultural Center. This free event is held in celebration of the rich diversity of our region and sponsored by the Chelan County PUD and the City of Wenatchee's Advisory Council on Diversity, Equity & Inclusion. The Annual Civil Rights and Social Justice Awards will be announced, at 10:10 am, by the City of Wenatchee's Advisory Council on Diversity, Equity & Inclusion.
Visitors will experience the many local cultural and heritage groups that make up the tapestry of our community. Through booth displays of art, food, crafts, clothes, pictures, and more, visitors are educated about the many diverse cultures represented. Kids will learn and connect with the cultural traditions through arts and crafts. Each child will receive a passport, with their picture, and travel to each cultural booth where they will receive a sticker in their passports. Some of the cultures represented are: Norway, Ethiopia, Ireland, the Wenatchi Band, Guatemala, and Mexico.
Throughout the day the stage will come alive with performances beginning with a community sing-a-long of We Shall Overcome.
Schedule of Performances
10:00 – 10:10 American Folk
10:10 – 10:40 City of Wenatchee Awards Presentation
10:40 – 10:55 Eastmont School District Kauambu Marimba
10:55 – 11:10 Eastmont School District Bonga Marimba
11:15 – 11:45 Arnold Cleveland intuitive native flute music
11:45 – 12:05 WHS Mariachi Dancers
12:10 – 12:30 Connie Celustka Celtic harp music
12:30 – 12:50 Wenatchee School of Karate
12:55 – 1:15 Danzas Multiculturales
1:15 – 1:35 An Daire Irish Dance
1:35 – 1:55 Tusuy Peru
2:00 – 2:20 TBD
2:20 – 2:40 Tusuy Peru
Food from the India House will be served beginning at 11:30 while supplies last. An exhibit on Martin Luther King Jr.'s I Have a Dream address delivered at the March on Washington for Jobs and Freedom will be on display.
Visitors will be given the opportunity to enter to win a year's membership to the museum. The Explorer Membership is an annual family membership with a value of $125. With this membership, families receive, among other membership benefits, free general admission at the Wenatchee Valley Museum & Cultural Center, as well as free general admission to 1,013 Arts and Culture Museums in North America, and to 364 Science and Technology Centers around the world. This includes more than 40 locations in Washington, such as the Pacific Science Center, Burke Museum, The Museum of Flight, Mobius, and the Museum of Glass.
For more information call the museum at (509) 888-6240.
Martin Luther King Multicultural Fest sponsored by:
Chelan County PUD
City of Wenatchee / City of Wenatchee Diversity Council
City of East Wenatchee
If you would like to sign up for a cultural booth, please CLICK HERE.