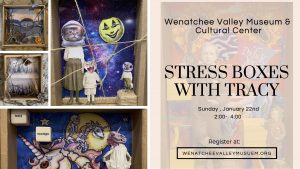 Join us on January 22nd as we release some stress and create some shadow boxes that Tracy likes to call her "Stress Boxes." As Valentine's Day approaches, use your creative side to make these fun and interesting masterpieces for yourself or a loved one using everyday items that you might find in your home, your yard, or even your child's toy box
(shhhhh). (If the Valentine's theme is not of your liking, you can choose any theme you'd like) We will supply all of the craft supplies but feel free to bring your own crafty bits from home if you have something special you'd like to incorporate. Don't think you are creative? You don't have to be! Tracy can help guide your project so that you can let your imagination go WILD to find out just what a fun and amazing piece of art you can make.
This is a teen – adult event as we will not have one on one guidance for younger participants. Thank you.