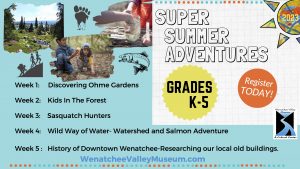 Join us for week 2 of our Super Summer Adventure Camps July 17 – 20 from 9:00 AM- 3:00 PM
Our Super Summer Adventure will get your kids ready to discover the amazing outdoors in our valley.
Each day of your, you'll connect with nature, explore the beauty of our natural world, and enjoy
an exciting outdoor adventure! Campers will go on field trips to local forest and outdoor areas to
explore and in learn from local outdoor experts.