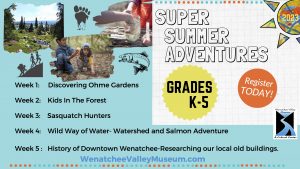 Join us for week 5 of our Super Summer Adventure Camps August 7 – 10 from 9:00 AM – 3:00 PM
Come visit some of Wenatchee's oldest buildings and structures. Learn the history and sometimes the mystery of these amazing buildings. Become the expert on unknown facts, amazing stories and hidden treasures that have been found behind the walls of Wenatchee's Historical and somewhat famous buildings.
**Campers must have completed the grade level they are signing up for. So if they want to be in the K class they must have already completed Kinder. If they want to be in 5th grade, they must have completed 5th grade.