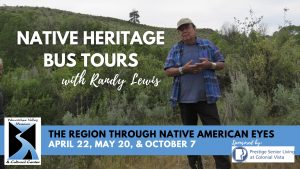 The Region Through Native American Eyes
Randy Lewis grew up with a strong understanding and sense of place within Native American Columbia Plateau indigenous society. Lewis traces his roots to the Wenatchi band. Lewis' enthusiasm for the history of his people, the stories of his ancestors, and their relation to the surrounding landscape comes from a hope for a deeper understanding and respect of ancient cultures
Tour-goers will meet at the Wenatchee Valley Museum to board a tour bus that departs at 8:00 AM and will return no later than 6:00 PM ( depending on the tour ).
April 22, 2023– Take a tour of Steamboat Rock like no other.  Randy Lewis will discuss the cultural
significance of this area.
May 20, 2023–  Randy Lewis will lead a tour highlighting the local native art by Smoker Marchand. Smoker's art graces landscape from Wenatchee to Omak and surrounding area.
October 7, 2023 –  Casino Tour to regional Casinos and Museums to see Native American history paired with life today.
Each tour includes a visit to a regional museum.
Please bring a lunch, plenty of water, and wear good walking shoes cash for gift shop and Casinos.
There are 3 tours in the Native Heritage Series, you do not need to register for all 3.
The member cost is $65/per tour or $175 for all 3 tours.
The non-member price is $100/tour or $250 for all three.