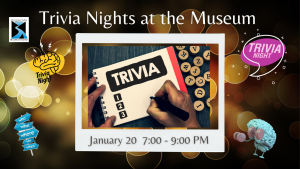 The Museum will host Trivia Nights monthly starting on January 20th from 7:00 – 9:00 PM with trivia for teens and adults!
We will have light snacks available and wine or beer for purchase for those 21 and older.
Teams of 2-8 players compete for top prizes in this evening of challenging trivia. Light snacks provided by the Museum. Admission is FREE!
Please register here so we can gauge our attendance for the night
REGISTER HERE