MUSEUM HAUNT 2021
The Haunt is coming! The

Wenatchee Valley Museum & Cultural Center

is excited to partner with

Haunted in Washington

to bring the Haunted Museum to the Wenatchee Valley on special nights in October.  The all-volunteer Haunt staff is looking for engaged speaking actor roles, limited acting roles, Haunters ensemble, tech crew, and security.  Auditions will be Wednesday, 9/8 and Thursday, 9/9, 6:30-8 PM, and Saturday 9/18, 5-7 PM at the Wenatchee Valley Museum and Cultural Center.   

The Haunt will start on Wednesday, October 20, 6:30-8 PM. This is for family, friends of the Haunters, and the press. The regular shows will be on October 22nd, 23rd, and 28th-31st. All shows run from 6:30-9 PM except Saturday nights which may go until 10 PM.
For more information or to receive the actor storyline, please contact Haunted in Washington at streetspook950@gmail.com.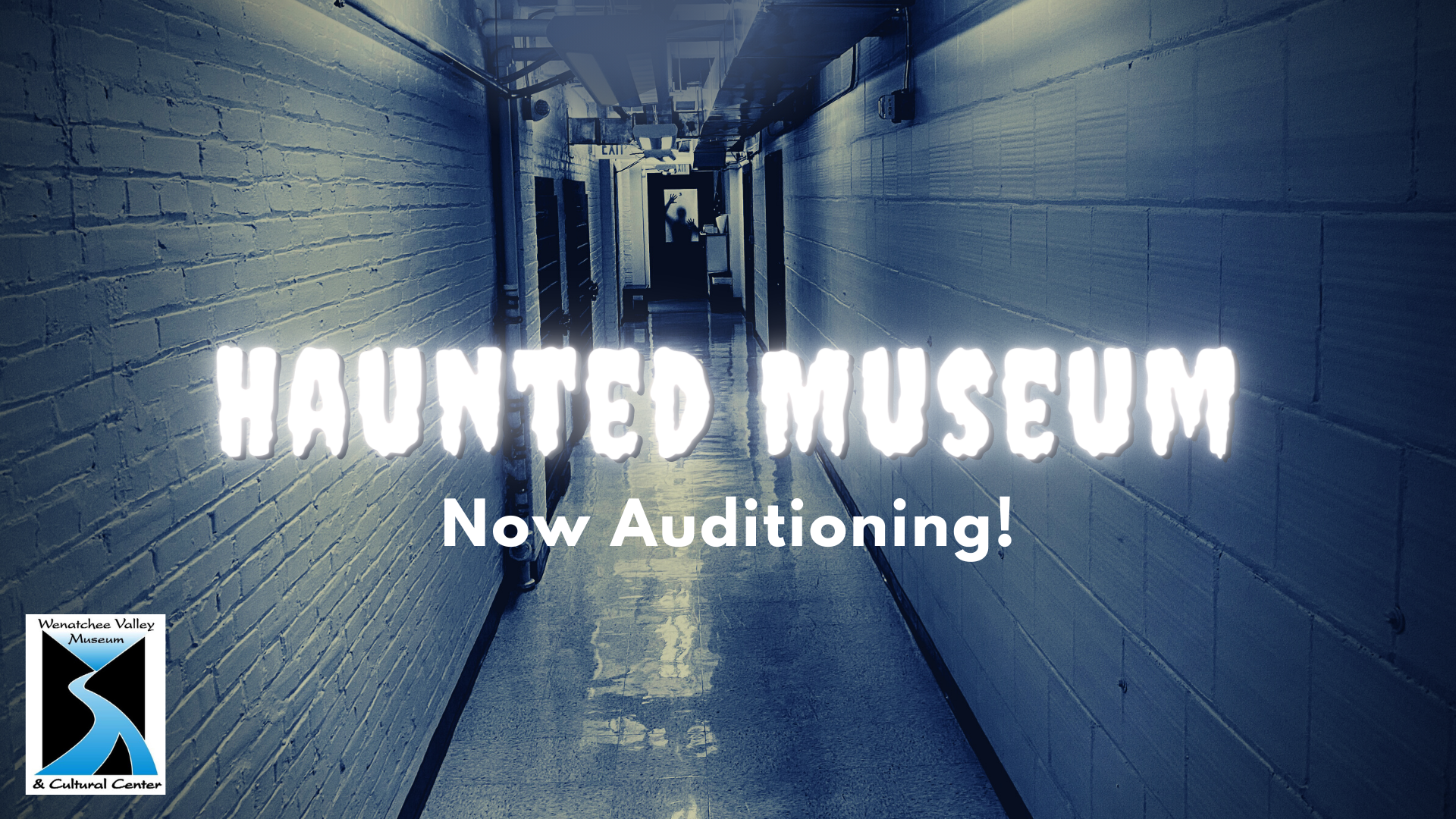 Theme Era: Early 1900's (1910-1920) Wellness Sanitarium that is a fraud.
AVAILABLE CHARACTERS INCLUDE:
(A)MR. & MRS. THORNDYKE – Husband and wife, portrays 50's, snobs, very rich, upper class. Very well dressed. Trying to impress anyone that will pay attention. Suspicious of the Sanitarium that it can deliver what it promises.
(A)MR. & MRS. ASTOR – Husband portrays 40+(older) and wife portrays 20's (much younger), he has the money and she wants it, he's quiet and she's wild. He is well dressed for high society and she is like a flapper girl. While she acts like she is totally in love with Mr. Astor, she is constantly flirting with Mr. Vandorn behind Astor's back.
(A)MR. VANDORN – Male, portrays 30's, very rich and single, always looking for the next best thing, wild and dangerous, pokes fun at the established rich, gambler. Inherited his money so has never worked at anything but partying. While he feigns interest in Mrs. Astor's attention, he really is trying for Lady Katherine since she has the most money.
(A)LADY KATHERINE – Female, portrays 50+, richer than anyone else and knows it, always looking for the next thing to stay young, gossip. Mildly interested in Mr. Vandorn's interest but knows what he is really after.
(A)NURSE LITTLE  – Female nurse, portrays 20's, tired, scared, trembly, mousey, fragile. New nurse so not sure of herself but knows something is wrong at the Sanitarium and has seen terrible things.
(A)NURSE WILKES  – Female, portrays 40+, hard, no-nonsense, never smiles, dark, all business, orderly, OCD, worships, and is deeply in love with Dr. Hissen.
(A)DR. VAN HISSEN  – Male, portrays 50+ year old, quite impressed with himself, God complex, well-to-do, dressed immaculately, thinks he's doing good, clueless, comes from an old wealth family. (Think Dr. John Van Horn in Tootsie). Not a good doctor at all. Has been run out of every hospital he has worked at before charges were leveled. Here at the Sanitarium, he is just the mouthpiece. Does what Dr. Pierce tells him to do. What does Dr. Pierce have over his head?
(A)DR. PIERCE – Male, portrays 30-40, the real power behind Van Hissen, pushes the business end, con artist, not a real doctor. Brings in the wealthy clients just for their wealth. Detests all of the workers, he's so above them and the clients once he has their money. Has Dr. Van Hissen over a barrel, caught him in the wrongful death of a young nurse.
(A)MR. CLEAVER – Male, adult, middle age, big, hairy, sweaty, shirtless or with only overalls or filthy apron, missing teeth, grunts or accent, gross cook. Looks at everything and everyone as potential food.
(A)MR. MONTAGUE – Male, portrays 40-50, big and strong, but maybe a beer belly, sadistic, bully and mean, not too smart, has a huge obvious key ring on the belt, (this will play in the basement on a dead dummy) he is an orderly. Loves scaring and bossing around everyone.
(A)GUNTHER GALUNGA – Male, adult, middle age, botanist professor that has spent way too much time in the jungles. Obsessed with plants and flowers, crazy, and talks very fast. Disheveled and scatter-brained.
(A)NURSE HEATH – Female, adult, disheveled, psycho, giggles sporadically, ticks, walks with a stiff leg, high pitch voice, long stringy wet hair. Refers to her patients as her children. Goes in and out of reality.
(A)DR. SZELL – Male, adult, disheveled, bloodied, very thick glasses, speaks with a thick German accent. (Think Dr. Szell in Marathon Man)