Looking for great summer camps? We offer weekly enrichment classes and summer camps for students entering 1st through 7th grades. There's a wide variety of morning, afternoon and all day camps and classes including science, art, robotics, cooking, engineering and more!
Morning summer camp classes are from 9 a.m. to noon; afternoon summer camp classes are 12:30 to 3:30 p.m., and all day classes are from 9 a.m. to 3:30 p.m. All classes are at the Wenatchee Valley Museum except where otherwise noted.
Join us for Super Summer Adventures! Sign ups are open now!
SPRING BREAK CAMP – CLOSED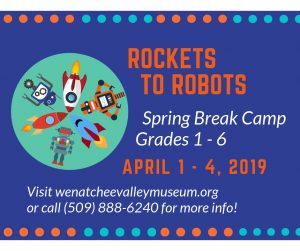 Spring break camps have come to a close. Thank you to our 2019 campers who built their own robots, explored the mechanics of their moving parts, and took their robots to outer space with rockets. Join us this summer for our summer camp series!