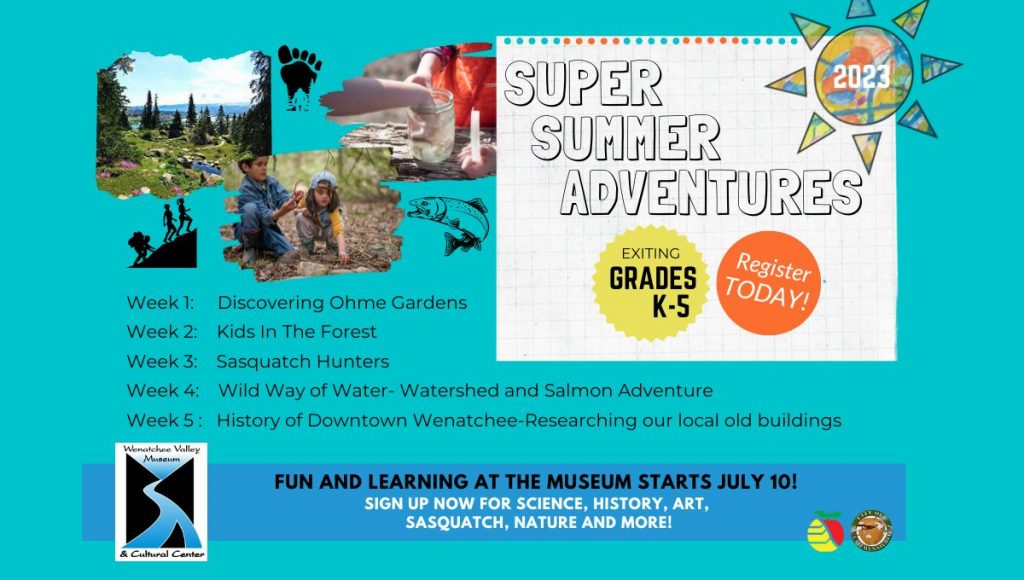 Join us for 5 Weeks of Super Summer Adventure!
Week One (7/10-7/13):
Come learn about an amazing local area "Ohme Gardens!"Experiencing the gardens and letting your inner artist run free through various artistic modalities. Painting, music, writing, and crafts.
Week Two (7/17-7/20):
Our Super Summer Adventure will get your kids ready to discover the amazing outdoors in our valley.
Each day of your, you'll connect with nature, explore the beauty of our natural world, and enjoy
an exciting outdoor adventure! Campers will go on field trips to local forest and outdoor areas to explore and in learn from local outdoor experts.
Week Three (7/24-7/27):
The legends of Bigfoot have been around for decades – even centuries. Bigfoot is also called Sasquatch, which means "wild men" in a Native American language of the Salishan family. Come learn with the experts to test your science and research skills and see if you are a believer.
Week Four (7/31-8/3):
Wild Ways of the Water is a balance of discovery, science and silliness. Campers will uncover the amazing world of the Watershed and how our Salmon are such an amazing part of our community and history.
Week Five (8/7-8/10)
Come visit some of Wenatchee's oldest buildings and structures. Learn the history and sometimes the mystery of these amazing buildings. Become the expert on unknown facts, amazing stories and hidden treasures that have been found behind the walls of Wenatchee's Historical and somewhat famous buildings.
REGISTER HERE

*Campers must have completed the grade level they are signing up for. If they want to be in the K class they must have already completed Kinder. If they want to be in 5th grade, they must have completed 5th.*