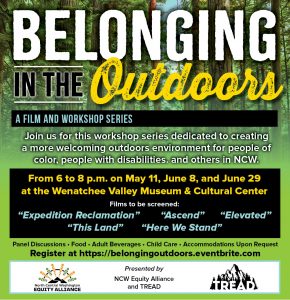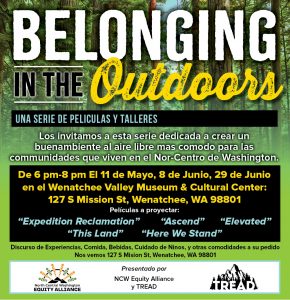 Belonging in the Outdoors is a film and workshop series exploring what BIPOC, the disabled, and others experience while recreating in NCW presented by the NCW Equity Alliance.
This three-part workshop series will collaboratively explore what people of color, people with disabilities, and others experience while recreating outdoors in NCW, and what actions can be taken so all people feel welcomed and have access.
While it is not required, we are encouraging people to attend and participate in all three events:
June 29, 6 to 8 p.m., at the Wenatchee Valley Museum & Cultural Center — Screening of the "This Land" and "Here We Stand" films, followed by the brainstorming of action steps, led by facilitators
There will be food and adult beverages, along with child care and other accommodations upon request.
More information about the NCW Equity Alliance can be found on their website.