Our MakerSpace is a classroom and craft space where students of all ages can learn about anything related to STEM. We host programs and classes, such as YMCA monthly programs, robotics clubs, Super Summer Adventures for kids, our Adult Get Lit STEM series, and more.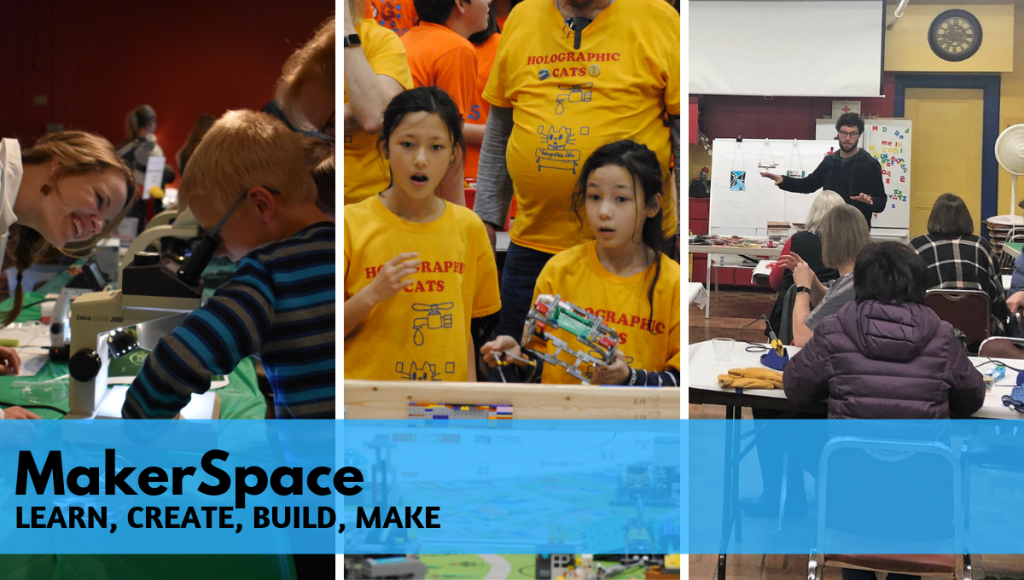 In School Programming: our MakerSpace Coordinator creates activity boxes based on K-5th grade curriculum and takes them into Wenatchee Valley schools to teach STEM lessons.  Each lesson is about 45 mins and correlates with each grade's science curriculum throughout the year.
Skills learned:
Social and task-oriented problem-solving skills
Knowledge of additional STEM curriculum not taught in schools
Teamwork and collaboration
Critical thinking skills
Robotics: The Wenatchee Valley Museum hosts three robotics teams (ages 9-14). Two are competitive and compete in the regional and often state level FLL robotics tournament, and one is a beginner team for those who are new or are a little too young. The focus on building LEGO based robotics and learn to program the robots that they build to complete specific tasks that are redesigned each year.
Adult STEM Classes: The Get Lit adult STEM series teaches adults how to create their own amazing projects at home and gives them the tools to do it in the MakerSpace. Classes include conductive thread, stained glass , glow in the dark soap, greenhouses, and hydroponics workshops.
Super Summer Adventures and Spring Break Camps: Classes and camps designed to expand and explore STEM skills.
Skills learned:
Block programing skills
Mechanical design skills
Teamwork and collaboration
Leadership skills
Social and task-oriented problem-solving skills
Critical thinking skills
Knowledge of additional STEM curriculum not taught in schools
Our goal is to combine our classroom environment with an open workshop environment. Additional funding support would allow us to open our MakerSpace for drop in projects and expanded classes. We hope to open our doors to students of all ages, allowing them access to all the tools that they would need in order to learn and finish any project that they could imagine. 
Our MakerSpace is a place where our community can come together to learn, create, build, and make.