The Wenatchee Valley Museum & Cultural Center seeks to inspire dynamic connections to the unique heritage and history of North Central Washington. We celebrate and preserve the history, art, science and diversity of this region and its peoples.
Take a step back in time at the museum. Learn about the earth-shattering power of the Great Missoula Flood and how our region was carved and shaped by cataclysmic forces. Discover the famed Clovis Points and learn about the indigenous stonemasons who created these (then) state-of-the-art spearpoints coveted by tribes all across North America. Learn about the first Western explorers to paddle these shores and the settlers who homesteaded here. Consider the wild landscape that coast-to-coast railroads, an agricultural revolution and the building of the dams transformed into one of the top fruit producing regions in the world.
Expand your mind, explore your imagination and get in touch with the roots of our region at the Museum!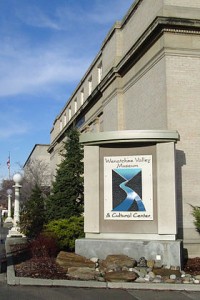 We are located in the heart of downtown Wenatchee in two federal style buildings that formerly housed the Wenatchee Post Office & Annex.

Address:
127 S. Mission Street
Wenatchee, WA  98801
Telephone: (509) 888-6240
E-mail: info@wvmcc.org

Admission
Adults: $5.00
Seniors and students: $4.00
Children ages 6-12: $2.00
Children 5 and under and museum members: Free
Free admission on first Friday of every month
Hours
Tuesday – Saturday 10 AM to 4 PM, except on major holidays.
Open 10 AM to 8 PM on the first Friday of every month (free admission)
We are proud of our historic buildings, our exhibits and collections, and the special programs we offer throughout the year. We look forward to seeing you here at the Museum and will be happy to answer any questions you may have. If you are interested in a group tour, please reserve in advance by calling (509) 888-6240.