This WPA (Works Progress Administration) mural created in 1939 by Peggy Strong is original to the Museum building when it was first built as a Post Office. It depicts the history of the postal service in the region and belongs to the people of the USA. It is cataloged by the Smithsonian.

This beautiful, fully operational 1919 Wurlitzer pipe organ from a local movie theater was restored and installed in the Museum's performance center in 1989. Curtains behind the organ open to view the full installation, featuring pipes and a variety of operational musical instruments used to add sound effects to organ accompaniments. View a demonstration of our 100 year old Wurlitzer Pipe Organ.

From the earliest days of settlement, Wenatchee's future depended on transportation in and out of the valley. The Great Northern Railway arrived in 1892, connecting the Wenatchee Valley to the rest of the U.S.
Click to download our Great Northern Railway coloring page.
Take a virtual tour of our Great Northern Railway exhibit.

This exhibit illustrates the "golden age of flight" with aviation pioneer, and North Central Washington native, Clyde Pangborn. Photographs and artifacts celebrate Pangborn's life and career, including his record-setting adventure in 1931 when he and partner Hugh Herndon completed the first non-stop, trans-Pacific flight from Sabishiro Beach, Japan to Wenatchee, Washington.
Click to download our Miss Veedol coloring page.
Click to take a virtual tour of our Pangborn exhibit.

COYOTE'S CORNER IS NOW OPEN!
The paint on our new floor mural is dry and is open to the public. Coyote activities are still scattered throughout the Museum, including our train table, play kitchen, large LEGOS, and more.
Click to download our Coyote Leads the Salmon coloring page.

"Trade, Tradition and Change" explores how American Indian groups of the Columbia Plateau interacted with each other and the outside world, and how that interaction affected their traditions. Petroglyphs from Rock Island, photographs, trade goods, food items, and beadwork are highlighted features.
Listen as Wenatchi/P'squosa elder Randy Lewis, the great-great-grandson of Sam Miller, founder of the Miller-Freer Trading Post and anchor to the original City of Wenatchee, tells origin stories related to the Creator's calling of a grand council of the plants and animals to help feed and care for the newest of creations: humans.
Click to download our Colville Woman on Horseback coloring page.

This exhibit explores the 11,000-year-old Clovis culture, with special attention to a Clovis site discovered in East Wenatchee in 1987. Five of the large points from that excavation are on display as well as scientific casts showing the variety of magnificent stone knives, scrapers, and bone tools that were recovered from the site.
Take a virtual tour of our Clovis exhibit.

The history of Wenatchee and East Wenatchee comes alive in this new permanent exhibit at the far end of the museum's second floor. Photographs, text panels, costumed manikins and artifacts from the museum's collection illustrate the first settling of the area, pioneer wheat farms and orchards, steamboat and railroad, early community leaders, medicine, and treasures.
Click to watch our online Butter Making tutorial.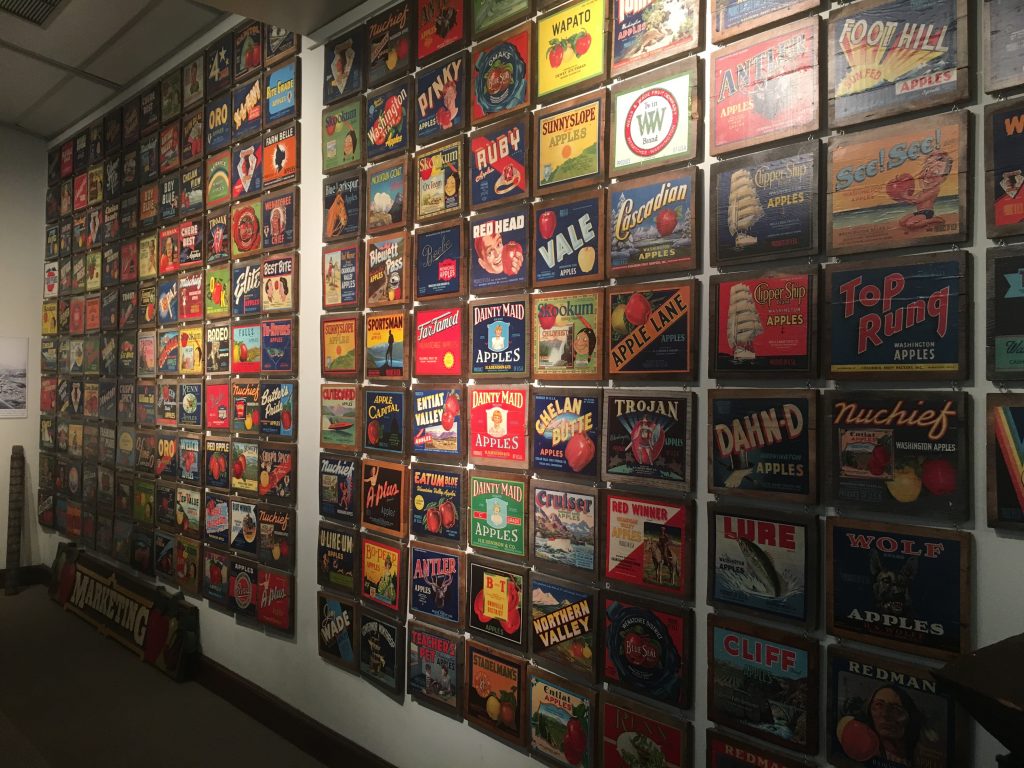 How did Wenatchee become the "Apple Capital of the World?" Our full-scale apple industry exhibit tells the story. It is located downstairs, below the "Our People, Our Place" exhibit, and includes a 1920s-era apple sorting line where apples were catapulted into the air to land in canvas bins.
Click to take a virtual tour of our working 1920s Apple Sorter.
Take a virtual tour of our Apple Industry exhibit.