Our members are the foundation of our success. Your support makes possible the amazing programs, exhibits and the preservation of our history that is an essential part of our community. Your membership with us gives you year-round access to the fun exhibits, events and activities that are happening here.
Use promo code: SPRING20 to get 20% off an Explorer Membership now through July 31st!
Join or give the gift of membership online now! Learn about all of our membership levels and benefits.
Time to renew? Continue your membership benefits for the next year.
Have a question? Check here for a list of frequently asked membership questions.
Your ticket to the WORLD!
Did you know that a premium level membership allows you and your family to receive many added benefits? In case you haven't heard, the Wenatchee Valley Museum & Cultural Center is now a member of the North American Reciprocal Museum Association (NARM) and the Association of Science and Technology Centers (ASTC). This means a premium level membership includes FREE general admission to hundreds of institutions throughout North America and worldwide.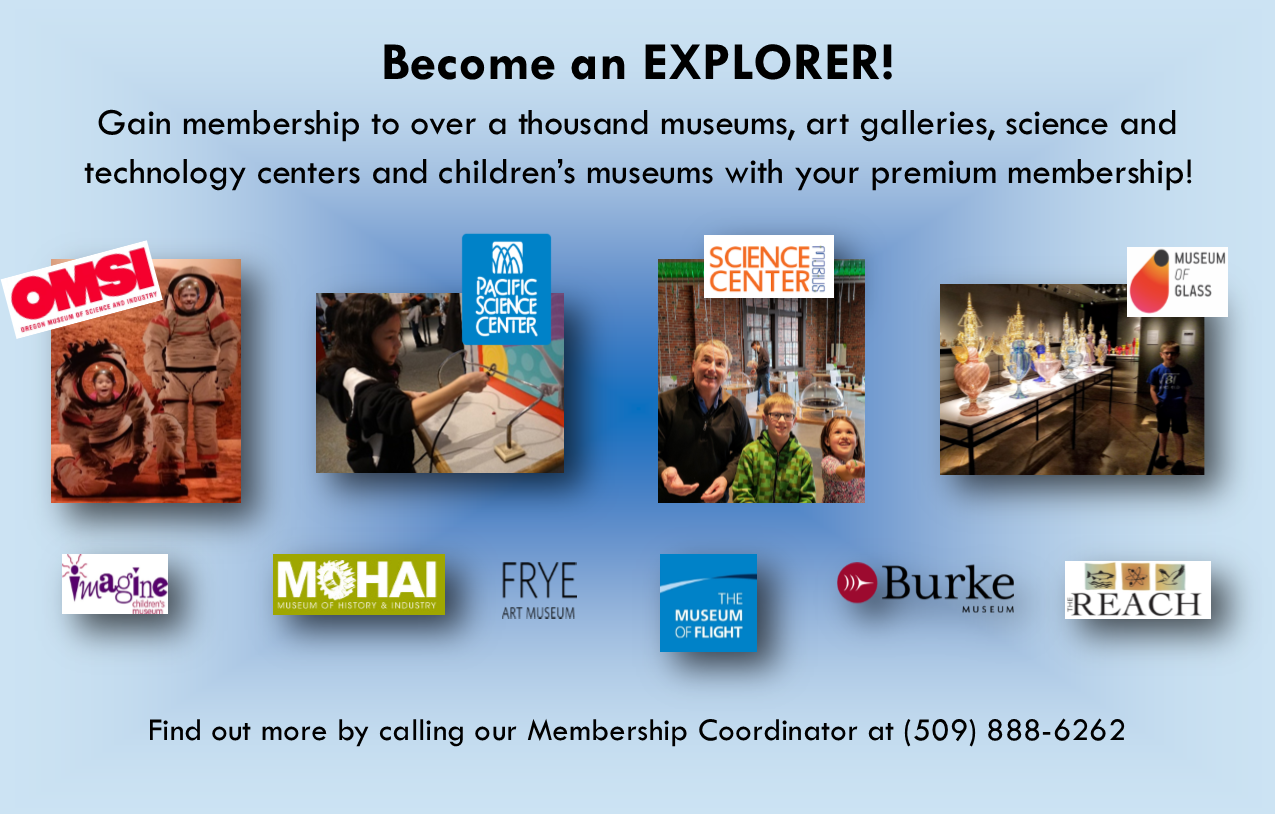 Business Memberships
The Wenatchee Valley Museum & Cultural Center provides educational, and community based opportunities that encourage people to celebrate and preserve the history, arts, sciences, and rich diversity of our region.
You can provide your employees with an additional employment benefit that helps promote greater employee satisfaction and retention: a discounted membership to the Wenatchee Valley Museum & Cultural Center.
Annual business membership benefits include:
All employees receive 30% off a personal membership plan of their choice
Discounts on rental of meeting rooms or banquet facilities
One-year subscription to The Confluence, a quarterly historical magazine
Discounts in the Museum Store
Additional benefits are included based on the membership tier selected – click here to see our Business Membership Information
Contact Kristin Lodge to learn more about our business memberships: 509-888-6264.