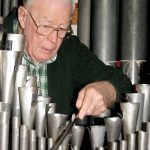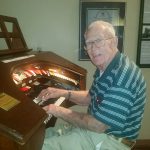 You are invited to join us Monday, March 12 at 10:00 AM for a special Organ Concert honoring one of our most dedicated volunteers, Bill Starkey. Refreshments will be offered. Please RSVP if possible by calling (509) 888-6240 or by clicking here.
In his 41 years of service to the Museum, Bill has been instrumental in the installation, preservation and maintenance of the original Liberty Theater Pipe Organ.
About the organist, Sharon Stearnes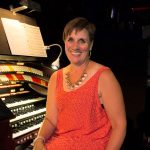 Sharon was staff organist at the Tacoma Pizza & Pipes starting in 1983. She played there for 16 years before the restaurant was lost in a fire in August 1999. She also played at the Bellevue Pizza & Pipes restaurant from 1987-1992 and at the Seattle Pizza & Pipes from 1984 until it closed in about 1989.
Sharon was the organist for the Seattle Mariners from 1985-1990.
She currently works for Aflac as an Associate Sales Coordinator and plays the organ at the Gig Harbor United Methodist Church
About the Organ
Since the organist first accompanied the musical comedy Chin Chin during the grand opening of Wenatchee's Liberty Theater in December of 1919, the museum's Liberty Theater Wurlitzer Pipe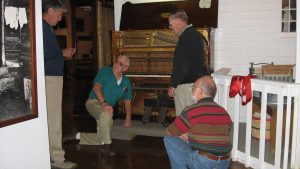 Organ has provided entertainment and wonderful memories for generations of theatergoers and museum visitors. Originally installed to provide sound effects and music for silent films and vaudeville performances, even after the introduction of "talkies" in the late 1920s organists continued to play musical interludes during stage productions, matinees and other events well into the 1940s. The organ was moved to the museum in 1988-89. With its 10 ranks of pipes and two keyboards, the Liberty Theater Pipe Organ can reproduce the sounds of a full orchestra and a large number of special effects. From auto horns to xylophone — a variety of instruments and sounds including clarinet, bass drums, cymbals, sleigh bells and horses' hoof beats are at the fingertips of the organist. The wooden shutters above the chamber windows open and close, providing volume control and emphasis to the particular sounds from each chamber.