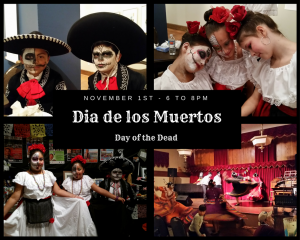 Live music, dancing, crafts and festive food marks Day of the Dead celebrations from 6 to 8 p.m. Wednesday, Nov. 1 at the Wenatchee Valley Museum & Cultural Center. The event, sponsored by Columbia Valley Community Health, is free and open to the public.
Visitors will have a chance to learn about this important Mexican holiday tradition of honoring the dead and see beautiful displays designed to memorialize deceased family members.
Day of the Dead is a Mexican holiday celebrated throughout Mexico and around the world in other cultures. The holiday focuses on gatherings of family and friends to pray for and remember friends and family members who have died. Traditions associated with the holiday include creating altars decorated with sugar skulls, marigolds and the favorite foods and beverages of the departed.
In Brazil, the holiday is known as Dia de Finados and is marked by visits to cemeteries and churches. In Spain, the day is marked by festivals and parades, graveside observances and prayer for dead loved ones.
The museum also is hosting a free altar workshop from 9 am to noon Wednesday, Nov. 1 for those interested in creating Die de los Muertos altar. Pre-registration for the workshop is required.
Community members are invited to create an altar to honor loved ones and set it up at the museum beginning Oct. 23. The altars will be displayed through Nov. 6.
For more information about the event or to reserve a spot for an altar, please contact the museum at 509-888-6243.