Environmental Film Series: The Story of Plastic Q&A Session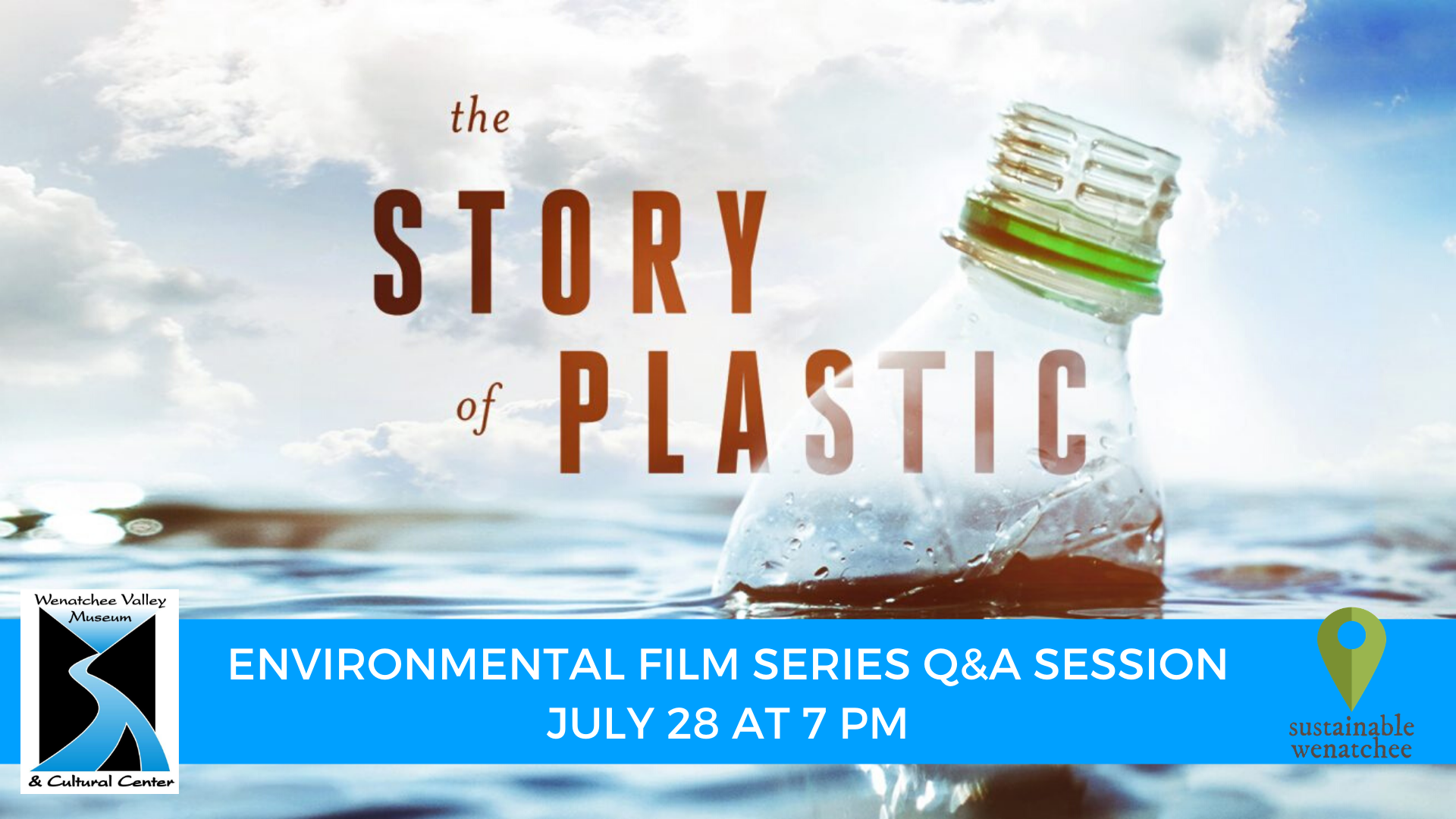 You're invited to view the "The Story of Plastic", and participate in a follow-up Zoom Q&A Session with Jana Fishback, Executive Director of Sustainable Wenatchee on Tuesday, July 28 from 7 – 8 PM. Click here: 61981.blackbaudhosting.com/61981/Online-Film to register and a link to the film will be sent to you. Preview the film at your leisure and join us for a Q&A Session with local plastics experts on Tuesday, July 28 from 7 – 8 PM.  Get your questions answered and learn how you can change the way we make, use, and throw away plastic to help improve the sustainability and health of our community.
"The Story of Plastic" takes a sweeping look at the man-made crisis of plastic pollution and the worldwide effect it has on the health of our planet and the people who inhabit it. Spanning three continents, the film illustrates the ongoing catastrophe: fields full of garbage, veritable mountains of trash, rivers and seas clogged with waste, and skies choked with the poisonous emissions from plastic production and processing. "The Story of Plastic" features interviews with experts and activists on the front lines of the fight, revealing the disastrous consequences of the flood of plastic smothering ecosystems and poisoning communities around the world, and the global movement that is rising up in response. With engaging original animation, archival industry footage beginning in the 1930s, and first-person accounts of the unfolding emergency, the film distills a complex problem that is increasingly affecting the planet's and its residents' well-being.
Special thanks to our sponsor: Sustainable Wenatchee, a 501(c)3 non-profit that works to promote a culture of environmental stewardship and social sustainability in North Central Washington.
This film is a part of the Wenatchee Valley Museum's Environmental Film & Speaker Series. Sponsorship support from foundations, community sponsorships, and individual giving allows us to offer these programs free to the community. This series helps connect our community to the world around us, raise awareness of issues impacting the environment upon which we all depend, and identify actions our community can take to improve and sustain our world and our Valley.
Please consider supporting the Wenatchee Valley Museum by joining us as a member and donor. Your support makes possible the programs, exhibits, and preservation of our local history that is an essential part of our community. Learn more at: https://www.wenatcheevalleymuseum.org/donate/