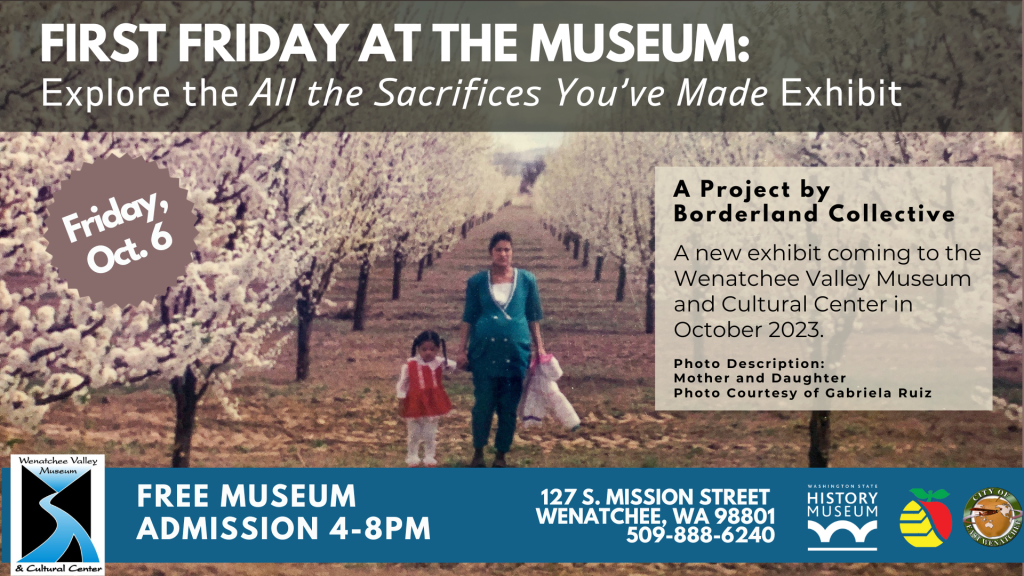 The Wenatchee Valley Museum & Cultural Center is open and free to the public 4-8 PM on the First Friday of each month.
Come see our new exhibit All the Sacrifice You've Made/Todos Los Sacrificios Que Has Hecho starting October 1, 2023. The museum is partnering with the Washington State Historical Society on the installation of this new exhibit.
Exhibition participants curated photos from their own family albums and recorded oral histories describing life growing up in the farm worker communities of Wenatchee and Yakima. The resulting exhibition creates a uniquely personal connection between the viewer and the families. It serves as an acknowledgment of the contributions, resilience, joys, and sacrifices made by farm workers from Eastern Washington agricultural regions.
All the Sacrifices You've Made / Todos Los Sacrificios Que Has Hecho is a collaboration between students and staff from the College Assistance Migrant Program (CAMP) at the University of Washington and Borderland Collective, an arts collective from Texas.
The exhibition was created by Borderland Collective's Mark Menjivar and Jason Reed with CAMP staff and students including Luz Iniguez, Natalia Esquivel Silva, Orfil Olmos, Gabriela Ruiz, Moises Mendez, and Alondra Torres.
Learn more about this exhibit here.