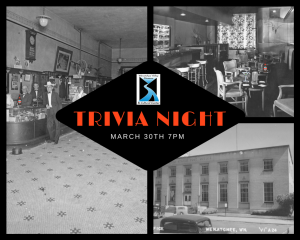 Trivia Night @ The Museum
Friday, March 30
6:00 PM – 9:00 PM
$1 per person
Put on your thinking cap for a casual evening of trivia for local history buffs, culture gurus and museum lovers from 6 to 9 p.m. Bring your friends and meet some of the smartest people around. Test your knowledge of museum exhibits, Wenatchee valley history, natural science, music and current events.
There will be six rounds with five questions each. Each round will have a different theme. At the end of the round, each team will submit their answers for the questions asked and the scores will be tallied. A great way to prepare for this special trivia night is to visit the museum and check out its Facebook page.
Bring a group (up to six people per team) or come alone and enjoy snacks, drinks and a win-the-pot prize during this friendly competition. Cost is $1 per person. Wine and beer will be available for purchase. Trivia night will take place in the performance center of the historic museum building at 127 S. Mission Street in Wenatchee.
For more information, contact the museum at 509-888-6240.