You are invited to a public screening and official museum installation of Wenatchee Stories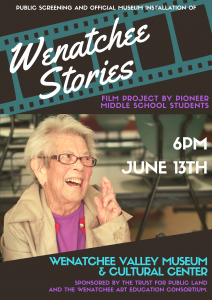 A film project by Pioneer Middle School students in Brock Hurt's Avid class sponsored by the Trust for Public Land and the Wenatchee Art Education Consortium.
Screening will take place at 6 p.m. at the Wenatchee Valley Museum & Cultural Center. Doors open at 5:30 pm.  The event is free and light refreshments will be served.
The Wenatchee Stories film project grew out of a desire by Trust for Public Land and Wenatchee Art Education Consortium representatives to provide an opportunity for middle school students to create a video under the guidance of a professional videographer contracted through the Icicle Creek Center for the Arts. Students used the video project as a way to engage in the Wenatchee Community by featuring the stories of local individuals.
Subtitles include: The American Dream, The Story of Lincoln Park, What Wenatchee Means to Me, Wenatchee elder Lucy Montoya, Memory Lane, the survival story of Corina Scrogge and stories from Socorro Herrera, Tate Mathison, Warren Scott and Juan Amezcua.
The City of Wenatchee and Trust for Public Land have been working on an ambitious multimillion dollar overhaul of Kiwanis Methow Park, central to the South Wenatchee Neighborhood. Part of the process of developing this park, is learning about and engaging the current community in the development of the park plan. The film project is viewed as another way to engage the community in the park plan development.
During this residency students:
Worked with professional videographer Amelia Egbert through the course of the school year. 

Conducted an inventory of Wenatchee personalities, both historical and contemporary, to feature in film

Developed interview questions and queries 
Made connections to historical Wenatchee events to regional, national and international history
Learned videography filming and editing techniques
Completed a video that will be used for a future field experience for younger students