Wenatchee Riverfront Park: 155 N. Worthen Street.
2023 Operation Schedule
ALL RIDES BY DONATION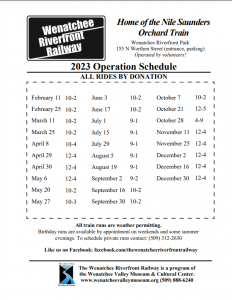 Birthday runs are available by appointment on weekends and some summer evenings. To schedule private runs contact: (509) 312-2630.
HOME OF THE NILE SAUNDERS (PEAR) ORCHARD TRAIN SINCE 1988 ORIGINALLY FROM PESHASTIN, WA 10 INCH GAUGE RAILWAY
BECOME A WENATCHEE RIVERFRONT RAILWAY VOLUNTEER!
Ask for a Volunteer SignUp Sheet to fill out at Wenatchee Riverfront Railway Depot: 155 North Worthen Street Wenatchee, WA (A Complete Background Check) Fill out onsite or take home and return at the next Regular Scheduled Run. Who will become a member of the WRRY Crew to help work on and maintain the 10 Inch gauge railway at Wenatchee Riverfront Park? Join us today!