GUEST HEALTH & SAFETY UPDATE: Due to increasing concerns over large gatherings, and after consulting with the Chelan-Douglas Health District regarding COVID-19, we are rescheduling Night at the Museum. Thank you so much for your continued support of the Museum, a Night at the Museum is our signature fundraiser and we can't wait to see you all there on Saturday, May 30th. This event raises funds to support our annual events, featured exhibits, and educational programs; the decision to postpone this event was not made lightly. In the end, the health and safety of the community was paramount in our decision. We hope you understand that the museum staff and board believes this is the right decision for the safety of our community.
Don't miss this unforgettable night out!
The Museum's signature fundraiser will feature four experiences in one: a fun brewery/cider house, a relaxing coffeehouse, a speakeasy, and a wine bar. Each space showcases delicious gourmet food from the Garden Grille and Bar; sweets treats from Cafe Columbia, award-winning wines, great beers, ciders, distilled spirits, and fun live music. Tickets are $50 for museum members, $60 for non-members. Included in the ticket price are twelve sample tickets, one full pour token, and unlimited food samples.
The beverage vendors include:
Bianchi Vineyards, Chris Daniel Winery, Columbia Distributing, Doghause Brewery, Eagle Creek Winery, Fielding Hills Winery, Hard Hat Winery, Jones of Washington, Leony's Cellars, Snowdrift Cider, Union Hill Cider Company, Sigillo Cellars, and Velen Winery
Bottles of wine, cider, and spirits will be available for purchase and all sales benefit the museum.

THE BANDS
Please join us in thanking our sponsors for their generous support!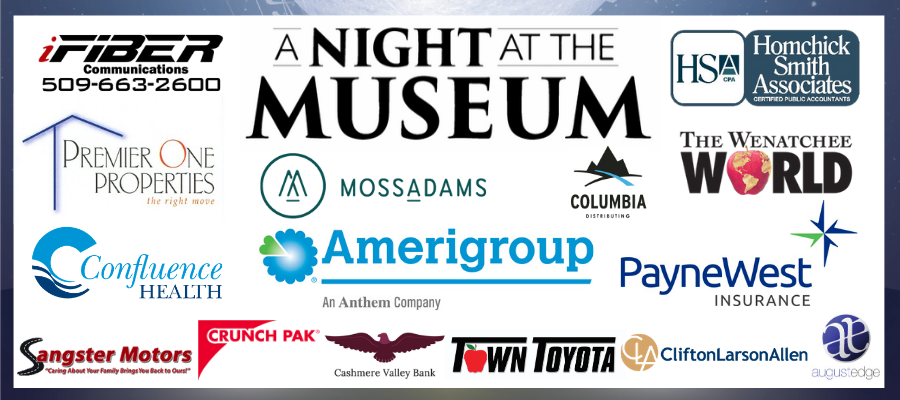 $2,000 Beverage Sponsor: Amerigroup
$1,000 Entertainment Sponsors: Homchick Smith & Associates, iFIBER Communications, Moss Adams, Wenatchee World
$1,000 Supporting Sponsors: Confluence Health, Premier One Properties, PayneWest Insurance
$500 Raffle Sponsors: Augustedge PLLC, Sangster Motors
$500 Supporting Sponsors: Clifton Larson Allen, Crunch Pak, Town Toyota, Cashmere Valley Bank, Columbia Distributing
GUEST HEALTH & SAFETY: Nothing is more important than public safety and the well-being of our community. The museum is preparing for COVID-19 in our community by working closely with local public health officials and aligning with local, state and federal public health guidelines. In order to promote everyday preventive actions, we have added hand sanitizer stations throughout the museum, we are reinforcing good hygiene and sanitization policies with staff, volunteers and visitors, and we are working with our janitorial service to ensure they continue to provide high level cleaning of our facility, including proactive sanitization of surfaces of the museum that the staff and public come in contact with. We would like to urge our visitors to stay home when they are sick, or when someone in their household is sick. We will continue do everything we can to ensure the health and safety of our visitors and their families.