It is with a heavy heart that we have decided to cancel our annual fundraising event, Night at the Museum, scheduled for May 30. Thank you for all your support of the Wenatchee Valley Museum. We stand together with our cultural partners, public agencies, and civic and community partners to slow the spread of COVID-19 and support the efforts to do what is necessary and effective to stem the outbreak.
We look forward to gathering with you to celebrate arts and culture in our community as soon as we are safely able.
This is a challenging time for you, for Wenatchee, and for your Museum. As a ticket holder to a canceled event, there is a simple and powerful way you can help your Museum continue bringing great programs and events to our community through this crisis and beyond: 
by donating the value of your tickets
.
Now, more than ever, we need your support to sustain your Museum through this unprecedented time. If you hold tickets to this event and are willing and able to donate their value to the Museum we thank you. Alternatively, you can get a refund for your tickets to Night at the Museum by emailing info@wvmcc.org, but it would mean so much to us if you would turn back your tickets as a donation instead. Donated tickets are treated as a tax-deductible contribution. The Wenatchee Valley Museum is a community-supported 501(c)(3) organization.
If we don't hear from you by May 31 we will assume you have generously opted to convert the price of your ticket to a donation to the Museum.
Thank you for your support!
---
Don't miss this unforgettable night out!
The Museum's signature fundraiser will feature four experiences in one: a fun brewery/cider house, a relaxing coffeehouse, a speakeasy, and a wine bar. Each space showcases delicious gourmet food from the Garden Grille and Bar; sweets treats from Cafe Columbia, award-winning wines, great beers, ciders, distilled spirits, and fun live music. Tickets are $50 for museum members, $60 for non-members. Included in the ticket price are twelve sample tickets, one full pour token, and unlimited food samples.
The beverage vendors include:
Bianchi Vineyards, Chris Daniel Winery, Columbia Distributing, Doghause Brewery, Eagle Creek Winery, Fielding Hills Winery, Hard Hat Winery, Jones of Washington, Leony's Cellars, Snowdrift Cider, Union Hill Cider Company, Sigillo Cellars, and Velen Winery
Bottles of wine, cider, and spirits will be available for purchase and all sales benefit the museum.

THE BANDS
Please join us in thanking our sponsors for their generous support!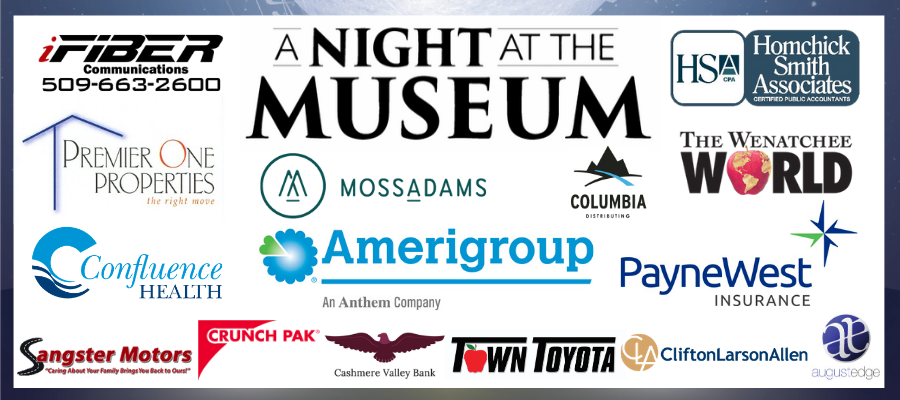 $2,000 Beverage Sponsor: Amerigroup
$1,000 Entertainment Sponsors: Homchick Smith & Associates, iFIBER Communications, Moss Adams, Wenatchee World
$1,000 Supporting Sponsors: Confluence Health, Premier One Properties, PayneWest Insurance
$500 Raffle Sponsors: Augustedge PLLC, Sangster Motors
$500 Supporting Sponsors: Clifton Larson Allen, Crunch Pak, Town Toyota, Cashmere Valley Bank, Columbia Distributing