HAVE QUESTIONS ABOUT DISTANCE LEARNING?
Join us for a live Q&A session on Monday, June 1 at 12 PM featuring Wenatchee Public Schools and Eastmont School District Superintendents. Hear from local school officials about the school districts' responses to distance learning, and efforts to connect with students and families during the COVID-19 closures. This event will be available on Zoom and from the Museum's Facebook page on Facebook Live. Questions may also be submitted in advance to info@wvmcc.org, or live via Zoom Q&A, Zoom Chat, or FB Live.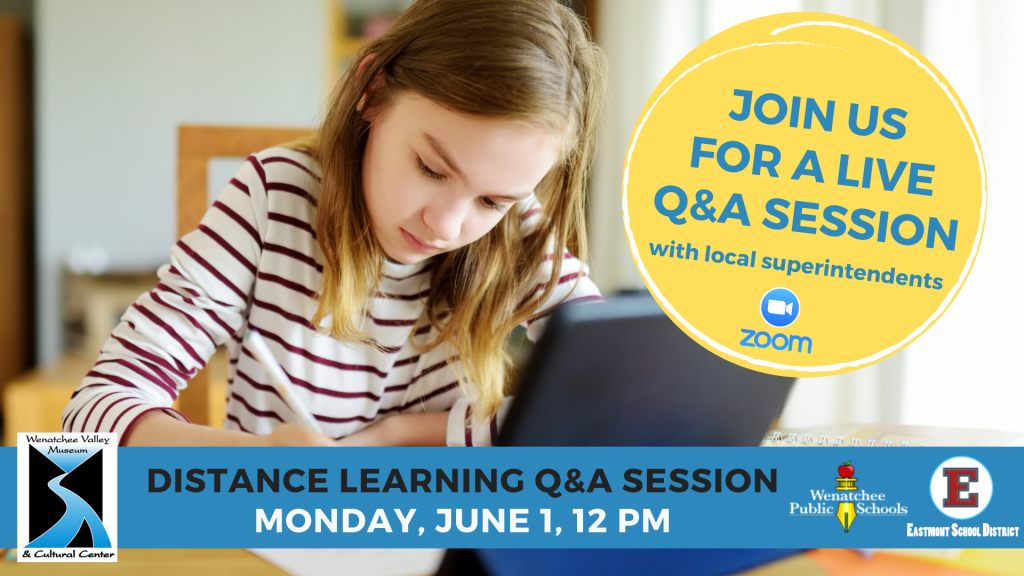 Panelists:
Dr. Paul Gordon, Superintendent (WSD)
Michael Lane, Executive Director of Learning and Teaching (WSD)
Spencer Taylor, Executive Director of Elementary Education (ESD)
David Woods, Assistant Superintendent/Secondary Education (ESD)
ZOOM LOGIN INFORMATION:
Webinar ID: 812 4960 8343
Zoom instructions: Before joining a Zoom meeting on a computer or mobile device, you can download the FREE Zoom app. Otherwise, you will be prompted to download and install Zoom when you click a join link. Click on Join Meeting, and enter the Meeting ID, then the password. Connecting is free and only takes a minute.