Kids Learn in Forest Classroom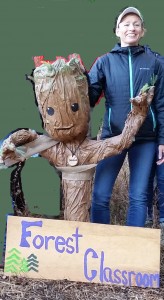 Meet Douglas, one of the Wenatchee Valley Museum's "forest sprouts," who greets kids every day at the forest classroom at Squilchuck State Park. Douglas and his 20+ cousins mark learning spots along the way, where students (we'll have 2,500 of them in Oct-Nov!) are having the coolest field experience ever.
Next to Douglas is Selina Danko, the museum's education coordinator, who has masterminded many outdoor learning adventures for kids in North Central Washington including "Youth on the Columbia." Selina, Susan Ballinger, Lisa Robinson, Dave Spies and other volunteers have worked hard creating a curriculum for this fall's forest classroom – an outgrowth of the museum's "Wildfires and Us" exhibit. Ea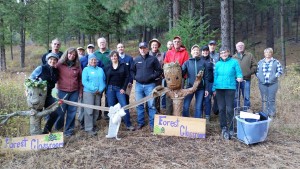 stmont and Wenatchee school district students from second to 10th grades are signed up for half days at Squilchuck and half days at the museum. At both places they'll be exposed to the eastern Cascades ecosystem in new ways. Sprouts like Douglas, who resemble the Marvel Comics superhero "Groot," are a friendly link to the outdoor learning lab for kids who don't often get out into the woods. We're excited about our new forest classroom program!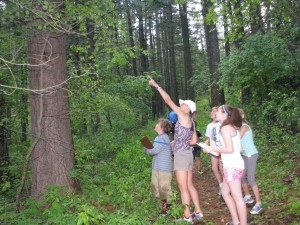 Above: Museum supporters and volunteers gather for a forest classroom ribbon cutting Oct. 12.
Left: Selina leads kids in a summer scouting trip to prepare for Squilchuck State Park lessons.