Address: 127 South Mission Street, Wenatchee, WA 98801
Phone: (509) 888-6240
Driving/Walking Directions: The Museum is located on the northwest corner of Yakima and Mission streets. Mission Street is a one-way (northbound) street. The Museum's parking lot is accessible from Mission Street.
Museum parking: is available on Mission Street in front of the Museum, and in the parking lot between our two historic buildings. Street parking and the Museum's parking lots are both free.
Additional/overflow parking: A large City of Wenatchee parking lot is one block south of the Museum at the corner of Mission and Kittitas Streets (free).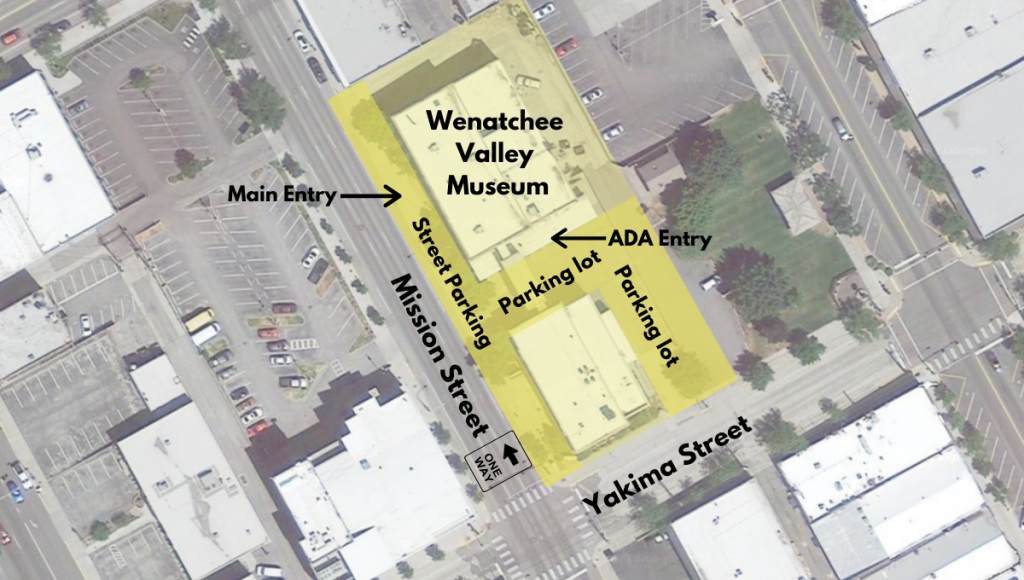 Public Transportation: Several LINK Transit buses drop off at the Museum, including routes 21, 22 and 28. In addition, route C stops 1 block east of the Museum on Wenatchee Avenue between Orondo and Yakima Streets, and route A stops 1 block west of the Museum on Chelan Street between Yakima and Kittitas Street.  For more information on bus routes to the Museum and around the Valley, visit Link Transit.
Geocache coordinates: 47°25'20.71" N, 120°18'39.51" W