Methow Valley Tour with Randy Lewis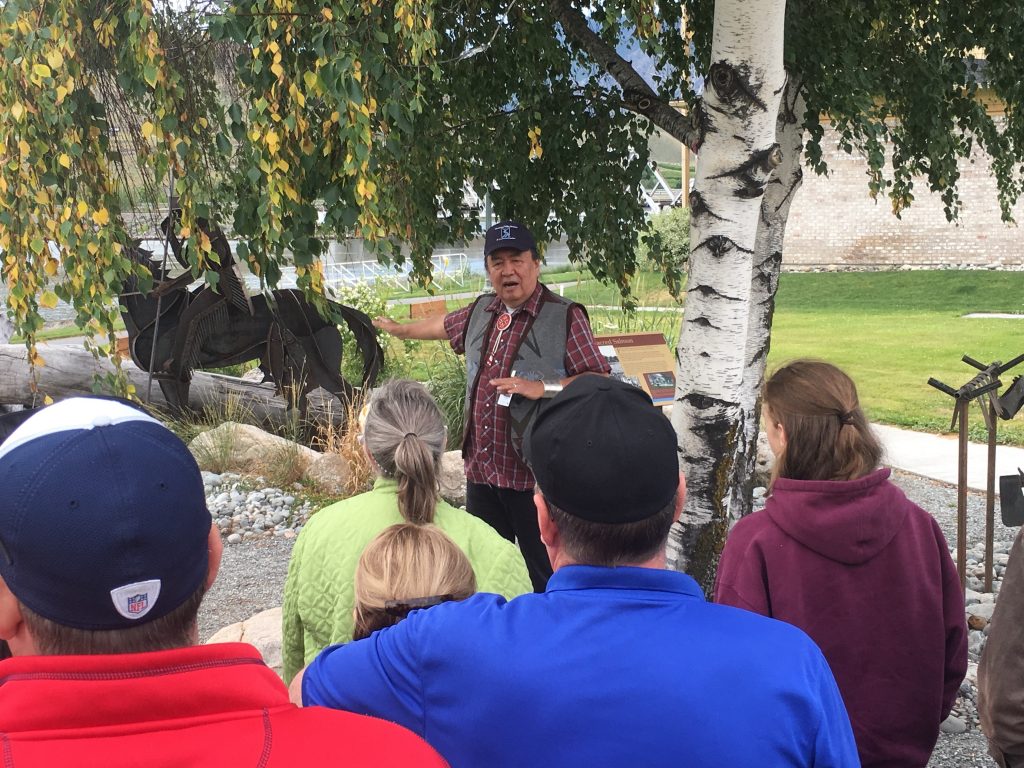 June 9, 2018
Written by
Deborah Lyon
WVMCC Member and Volunteer
I loved the stories. We started out on the bus with Randy reminiscing about his youth in the Methow band and the stories his many relatives told him as part of their beloved culture.
Randy grew up here in the Valley and then traveled the world doing an assortment of jobs throughout his life, spending years in the Seattle area before being drawn back to his roots and to the current purpose of his life. He will be with us at the Wenatchee Valley Museum and Cultural Center sharing this knowledge and wisdom passed down through the ages and we can't wait to hear again and again the many wonderful and wise stories he has to tell.
There was Eagle Boy, who was left behind by his family and adopted by a family of eagles, triumphantly to await his family's return the next year, fully provisioned and settled in his home. Long before Abraham Lincoln was born, Eagle Rock looked out over the river.
We heard about Snake Rock and Dragon, who fought over the land and the First People in the sky, in the water and under the land, leaving a ribbon of blood-colored rock up the side of the riverbank.
At Wells Dam, we heard about the ceremonious installation of the petroglyphs above what used to be his boyhood home. The old water pump still stands in the waters adjacent to the dam.
There were funny stories, as when a grandmother hid her two sons dressed as pregnant women in the birthing house, and touching stories as to how the men went into Alta Lake just after the spring waters receded to dig for the rare blue clay they would use to make their beautiful clay pipes.
But I think the most beautiful story of the young boys' youth and a testament to their joyful and peaceful early days was when they used to ride their horses to the water at Rock Island and stand them in the cool, clear water during hot summer days, climbing on their backs and jumping off into the water, only to swim around and climb up again. They used this skill later on, when they would balance standing on their horses' backs out in the waters of Celilo Falls, spearing the great salmon from there.
There are so many more memories, both stories and biographical, I couldn't possibly tell them all here. If you have a chance to attend a tour, either inside or outside of the museum, please take advantage of the wonderful resource we have in Randy Lewis.
---

Methow Valley Tour with Randy Lewis – June 9, 2018
Written by
Deborah Lyon
WVMCC Member and Volunteer
---