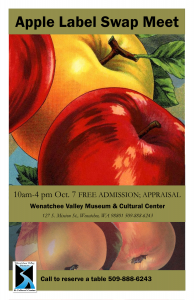 Fruit label collectors will converge on the Wenatchee Valley Museum from 10 a.m. to 4 p.m. Saturday, Oct. 7. The free swap meet is a great opportunity to add to existing collections or just to peruse an art form that died out after the advent of the cardboard box in the late 1950s.
Fruit labels identified and promoted Washington State fruit on the ends of wood fruit crates starting in the early 1900s. From the valley to the orchards, the art on the ends of the boxes has left an enduring history of the early days of Wenatchee and North Central Washington fruit growers.
Collectors are as interested in the tales of the past as much as the discovery of a rare label.
"I got into collecting because I was working in the industry and thought the old labels were cool," said Mike Doty. "Then I started to get to know people who had worked in the industry when labels were still used. All of us collectors try to gather as much information as we can when we add to our collection. We love the stories."
Doty, who has about 2,000 labels in his private collection, says there are about 8,000 labels in circulation from the extremely rare (and valuable) to the prolific.
Label designers, inspired by the scenic beauty of the Pacific Northwest, painted idyllic scenes filled with flowing rivers and quaint villages, rosy-cheeked children and a country brimming with perfect fruit.
The work of producing the labels did not stop in the artist studio, however. Fruit label lithography was not a Xerox process. It was a slow and highly skilled profession. The printing process required using heavy limestones, careful alignment, specially treated paper and meticulous attention to detail.
That craftsmanship is part of the lure for avid collectors.
The event includes live demonstrations of the museum's 1920s apple sorter and a chance to see a display of vintage fruit labels.
The swap meet is free and open to the public. For more information, please contact the museum at 888-6240 or go to wenatcheevalleymuseum.org.