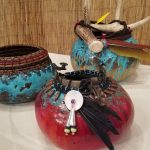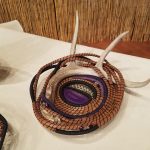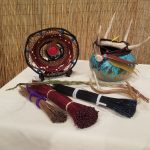 Len Sherrard – Nature's Needles
Join pine needle basket maker Len Sherrard for a two-day workshop to learn his craft. Sherrard's contemporary baskets include found objects like stones and antlers as well as gourds. His vibrant work also incorporates beads and dyed threads along with pine needles and other natural materials in the traditional coiling method.
In the first day of the workshop, Sherrard will lead the group through the process of making a gourd and pine needle vessel. On day two the project will start with a stone centerpiece and the pine needle coils will grow into a basket from there. All materials are provided and instruction will be fun and upbeat. Sherrard's boisterous personality will make this an entertaining and educational workshop. All materials and supplies are provided and all skill levels and experience are welcome. Lunch is included.
This workshop will take place in the museum's Maker Space on November 3rd & 4th from 9 am until 3:30 pm. This workshop is limited to 10 individuals. Cost is $250 per person.
https://61981.blackbaudhosting.com/61981/Basket-Weaving-Workshop