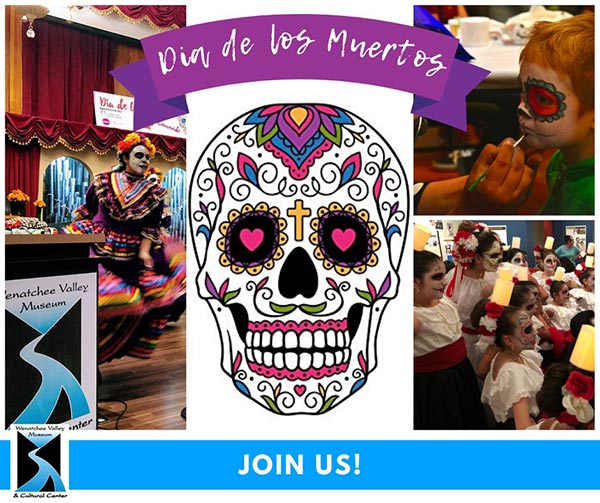 Join us virtually on Tuesday, October 20th at 7 PM for a free Pybus University class on Day of the Dead Altars. Pybus Public Market offers a series of unique and fun classes for the general public.
In the past the Wenatchee Valley Museum & Cultural Center, has invited members of our community to either create their own Día de los Muertos altar or to bring photographs in honor of lost loved ones to the Museum on the day of the event to display on a Community Altar. Things may look a little different this year but everyone is encouraged to participate in the celebration at home. Ashley Sinner along with Terry Valdez and Miguel Jimenez will present a family-friendly lesson on Altars. You will learn a little of the history and traditions behind the Día de los Muertos Altar and receive instructions on how to build your own with items you have around the house. The night will include a chance to ask questions and comment and chat about this special holiday.
This class will be presented by Ashley Sinner, the Outreach & Public Relations Coordinator at the Wenatchee Valley Museum & Cultural Center, local artist Terry Valdez, and CVCH IT Technical Support Specialist Miguel Jimenez.