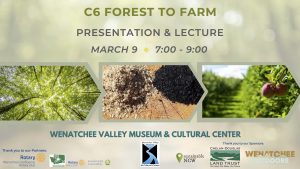 Join us on Thursday, March 9th at 7 PM as we partner with
The Land Trust for our Speaker Series "C6 Forest to Farm.
Lecture Details: 
C6 Forset to Farm, Reducing wildfire risk by converting biomass to biochar.
Challenge? Wildfire. A century of fire suppression has left our forests dry and full of unprecedented
amounts of biomass – providing fuel for extreme wildfires. Add climate change, with hotter temperatures
and longer summers, and we're now seeing forests being destroyed by wildfires at an accelerating rate.
In the US, wildfires burn 8 million acres per year – an increase of 250% since the 1990's, and account
for approx. 8% of greenhouse gas emissions.
What is Biochar? A solution. Biochar, made from small diameter trees (the fuel for extreme wildfire) will
create a market for biomass that previously had no value. This will increase the pace and scale of small
diameter tree thinning and reduce wildfire risk. Reduces wildfire risk, fights climate change, and
supports regenerative agriculture.
Mission: Advancing forest health restoration to reduce the risk of extreme wildfire in the Pacific
Northwest.
Nonprofit that uses innovative science-based solutions to reduce the risk of wildfires and fight climate
change. Reduce wildfire risk by removing excess biomass and turning it into Biochar, a carbon-rich
material that supports regenerative agriculture.
Thank you to our series sponsors the Rotary clubs of Chelan, Cashmere, East Wenatchee, Wenatchee,
Wenatchee Confluence, and Wenatchee Sunrise for helping make this series possible.