We hope you have been to see our newest exhibit, Beacon of Friendship: the Arts and Culture of our Sister City in the main gallery. Among the highlights are an interpretation of a Japanese tea house, a rock garden, kimonos, and huge selection of artwork. Notably, there are a series of prints telling the story of the 47 Ronin.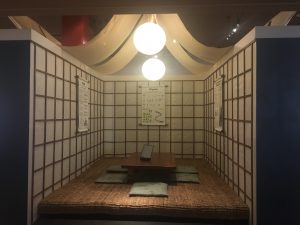 Did you have a seat in the "tea house" that Curator of Exhibits Kasey Koski created? Come back when you have some time to really take it in. Have a seat on the zabuton–the traditional floor cushion. Relax. Dabble with the water-based calligraphy brush. Fold paper to create your own origami creature. Or write a haiku. Instructions for all of those are right in the display.
The exhibit is in our main gallery and will be on display through February 11, 2017.