Let's play a game to support the Wenatchee Valley Museum and local businesses, plus you might just save a little bit of money, which is great during the holidays.
Thanks to the generosity of several local businesses, we have gift cards and merchandise that we are offering 10% off the face value.
Now here's the game part, starting on November 27th, Black Friday, you will be able to purchase them – sight unseen.  We have 58 ornaments with the value of the gift, less 10%, printed on the front.  You purchase an ornament for that price and we give you the gift that's listed on the back.
We have gift cards to several local restaurants, custom jewelry from local artisans, coffee, a corset, and many other treasures.  There is a full list on our website.  We will tell you what gifts are, but not which ornament has that gift.  You can purchase them on our website, come into the museum or call and we will hold it for you.
Perfect for gift-giving, even if it's not what you expected, you supported your community.  Of course, you could always buy another ornament.  Remember, you have to play to win.
You must be 21 to purchase an ornament.
See below for a complete list of gifts.
61981.blackbaudhosting.com/61981/Wall-of-Gifts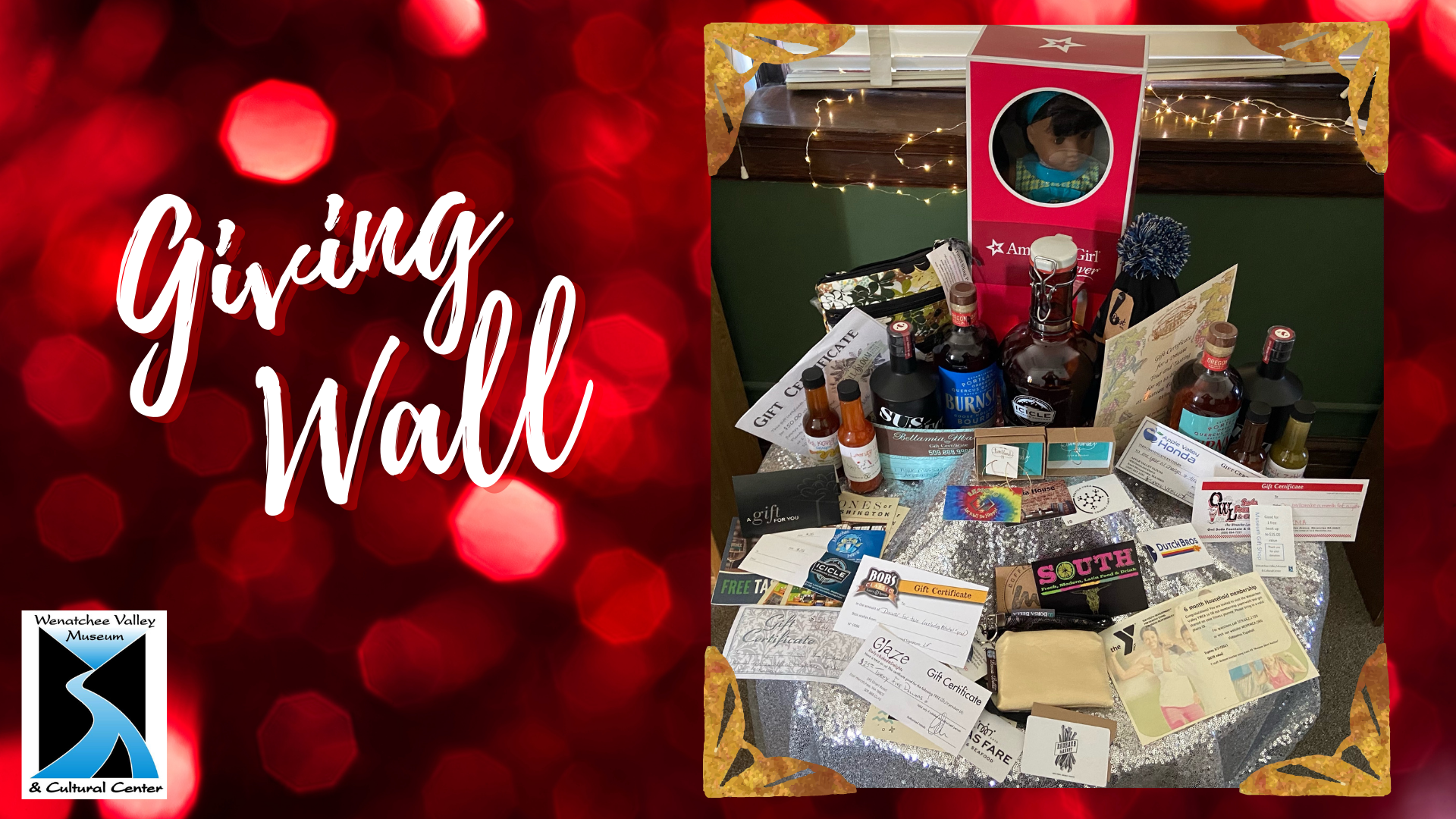 The gifts include:
$5 Gifts for $4.50
An Icicle Brewing Company Pint Glass
A pack of Icicle Brewing Company playing cards
4 bottles of Lemolo Hot Sauce (being sold separately)
$10 Gifts for $9.00
2 – Café Mela Gift Cards (sold separately)
6 – Dutch Brother Gift Cards (2 $5 gift cards per envelope)
2 – ½ pound Specially roasted coffee beans (sold separately)
Seattle Yoga Lounge Gift Card
$15 Gifts for $13.50
1 pound Specially roasted coffee beans
Stemilt Creek wine tasting for 2
Wine tasting for 2 at The Wenatchee Valley Visitor Center
$20 Gifts for $18.00
2 pairs of Earrings (sold separately)
Borsa Bella key chain and Catch-All Zippered Pouch
Lemolo t-shirt
Lemolo Gift Card
$25 Gifts for $22.50
Full Bloom Gift Card
Glaze Gift Card
3 – 1-year subscriptions to the Good Life (sold separately)
Icicle Brewing Gift Card
Muchen Haus Gift Card
Icicle Brewing knit hat
India House Gift Card
2- Rhubarb Market Gift Cards (sold separately)
Earrings from Tumbleweed
Wenatchee Natural Food Gift Card
1 book of your choice from Wenatchee Valley Museum (up to $25 value)
Gift Certificate to the Antique Mall
Necklace from Tumbleweed
$40 Gifts for $36
Burnside Goose Hollow Bourbon
Icicle Brewing Growler
Borsa Bella Cross Body Purse
$50 Gift for $45
Atlas Fare Gift Card
Full Bloom Gift Card
Wenatchee Natural Foods Gift Card
Dinner for 2 at Bob's Classic (up to $60)
$70 Gift for $63
Milkshakes for a year from Owl Drug (12 total)
South Gift Card
$80 Gift for $72
1 hour massage from Bellamia Massage
Corset for Orchard Corset
Burnside Oregon Oaked Bourbon
$100 Gift for $90
American Girl Doll – Melody
1 year worth of oil changes and tire rotations from Apple Valley Honda
Special Offers
Tour and tasting for 10 from Chateau Faire Le Pont – $250 value for $150
6 month Family Membership to YMCA – $480 value for $250
Explorer Membership to Wenatchee Valley Museum – $125 value for $100