Thanks to the generosity of several local businesses, we have gift cards and merchandise that we are offering 10% off the face value.
Now here's the game part, starting on November 27th, Black Friday, you will be able to purchase them - sight unseen. We have 58 sealed envelopes with the value of the contents, less 10%, printed on the front. You purchase an envelope for that price.
Find out more »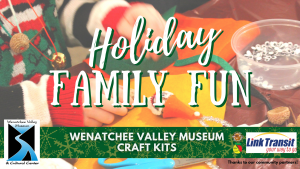 Bring Holiday Family Fun into your home with the Museum's craft kits! Kits will be available for purchase November 30th to December 23rd, or all kits are sold. Kits purchased online may be picked up at the Museum. Each kit will include supplies, instructions, and a link to an instructional video for each craft.  Each...
Find out more »