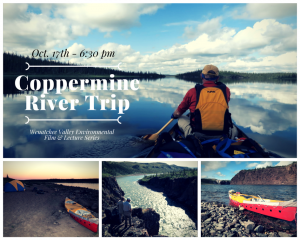 In late July of 2016, four men from Wenatchee pushed off from the short of Point Lake in Canada's Northwest Territory and launched down the Coppermine River. The group will share highlights of this grand adventure Tuesday, Oct. 17 at the Wenatchee Valley Museum & Cultural Center. Their talk is part of the Wenatchee Valley Environmental Film & Lecture Series.
After 24 days of paddling and 350 miles, the four reached their destination: the Arctic Ocean and the Inuit village of Kugluktuk. The trip inspired poetry, song and left all four adventurers wishing to share their experience of rapids, canyons, wolves, loons, bugs, char, storms, scenery and wonderful wilderness.
Kids are welcome and the Museum Makerspace is open for hands-on science activities for ages 6 and up thanks to support from Wenatchee Valley Medical Group. The event is free and open to the public. A $5 donation is suggested. There will be light snacks and an opportunity to purchase beer or wine.
Series sponsors include the Chelan-Douglas Land Trust, Trust for Public Land, Wenatchee River Institute, Wenatchee Valley Museum and the Wenatchee Valley medical Group.
Doors open at 6:30 p.m. and the program begins at 7 p.m. For more information, contact the museum at 509-888-6240.