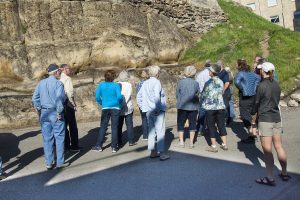 There is still room on the Fire and Ice Geology Tour slated for 9 a.m. to 5 p.m. Saturday, Oct. 14. Tickets are $40 for members, $45 for nonmembers.
Tour guide and geology enthusiast Ken Lacy leads this all-day excursion through the Lower Moses Coulee, Waterville Plateau and Brewster's Grand Terrace. Lacy will talk about the immense forces behind the formation of towering basalt cliffs and describe the features the inspired the ice age vocabulary of moraine, kames, eskers, drumlins and kettles.
While touring Brewster's Grand Terrace, tour-goers will see the source of the glacial ice-borne boulders (erratics) that cover so much of the Waterville Plateau. Also featured are the volcanic feeder dikes of Pine Canyon and a stop for lunch at Chief Joseph Dam.
Lacy is a board member of the Ice Ages Floods Institute and is passionate about sharing the story of North Central Washington Geology.
For more information, contact the museum at 509-888-6240.