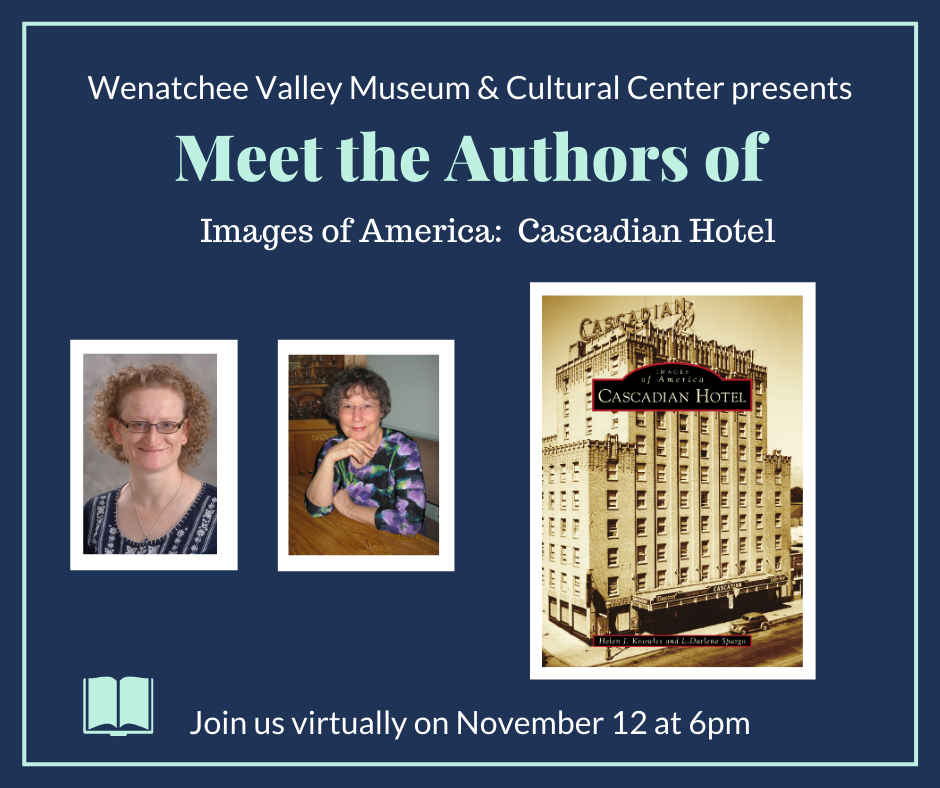 Join us as we talk to the authors of Images of America: Cascadian Hotel live on Zoom on Thursday, November 12 at 6 PM. The authors will discuss historic events tied to the Cascadian Hotel, their research process, and more! This talk is free, but registration is required. Please register to receive the Zoom log-in information.
Book Description:
On August 9, 1929, the Cascadian Hotel opened in Wenatchee, Washington, the "Apple Capital of the World." It was (and still is) the tallest building in town. The opening ceremony—featuring a human spider scaling the facade—celebrated the coming to town of a technologically innovative and luxurious hotel that, for its 42-year existence, prided itself on quality service. The Cascadian had very strong ties to the community, apple themes ran throughout the building, and for years it was the go-to meeting place in Wenatchee. The hotel also served as the starting point for the hospitality careers of several men and women who rose to executive leadership positions in the international Western (later Westin) Hotels chain.
Author Description:
Helen J. Knowles is an associate professor of political science at the State University of New York–Oswego. This book developed out of her research for Making Minimum Wage: Elsie Parrish Versus the West Coast Hotel Company, which tells the story of a US Supreme Court case involving the Cascadian. That book will be published by the University of Oklahoma Press in 2021.
L. Darlene Spargo is the author of three books on local history. Images used come from numerous libraries and private collections.