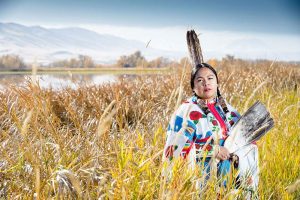 Emily Washines, Yakama tribal member and scholar, talks about the intrinsic link between culture and food and the heartbreaking consequences to a community when those links to the past are broken. Washines uses the reintroduction of the Wapato plant as an example of the connection of indigenous foods to the health and culture retention of the Yakama tribe. In her 60-minute slide show presentation, Washines talks about interviewing elders, visiting traditional food gathering grounds and ultimately reclaiming land that had grown wheat for 70 years back to its historical roots of prime wapato wetland.
Washines is a member of the Central Washington University board of trustees and president of the Yakima Environmental Learning Foundation. She is a lifelong learner of Ichiskiin Sinwit, the Yakama language. Her published documents include: "Natural Restoration and Cultural Knowledge of the Yakama Nation" and "Indigenous Rights, Water and Development: The Skokomish and the Yakamas."
Washines has presented before the National Social Science Association, Young Women's Health Summit, Substance Abuse and Mental Health Services Administration and the third National Conference on Women. She is a frequent panel member, speaker and volunteer for numerous organizations across the Pacific Northwest.
With more than 20 years of broadcast and video experience, she serves as president of – and coordinates a yearly film series for – the Yakima Environmental Learning Foundation. Recently, Washines launched a native lifestyle empowerment business "Native Friends," which focuses on language, history, culture and providing parenting resources.
A $5 donation is requested at the door. Light refreshments will be available along with a no-host wine bar.
Sponsored by: Kathleen McNalty & Steve Wright &