Regional High School Art Show
March 2nd – May 5th, 2018
The Wenatchee Valley Museum & Cultural Center is proud to sponsor the 39th Annual Regional High School Art Show in cooperation with the North Central Educational Services District and the Office of Superintendent of Public Instruction each year. This is a wonderful opportunity to showcase our students' creativity and talent District-wide and State-wide. Museum visitors can see artwork from students in Chelan, Douglas, Grant and Okanogan Counties, with winners recognized in 8 categories as well as vote on their favorite in our "People's Choice Award."

2018 NCW Juried Art Show and Sale
June 1st – September 8th, 2018
ARTIST PROSPECTUS
Prospectus – Juried Art Show 2018
Artwork Entry Date: Saturday, May 12th, 2018
The 3rd NCW Juried Art Show & Sale presented by the Wenatchee Valley Museum & Cultural Center showcases quality work by regional artists in a museum setting. The art show opens during the First Friday Artwalk of June on Friday, June 1 from 5-8pm. This year's event highlights area artists of both two and three-dimensional original works that will be on display and for sale. The exhibit will be open to the public during regular museum hours through the first Friday of September. This exhibit is co-sponsored by the City of Wenatchee Arts, Recreation & Parks Committee.
Edward Curtis Exhibit
Beyond the Frame: Interior Life
October 5th, 2018 – February 2nd, 2019
From 1907 to 1930 photographer Edward S. Curtis took on the colossal task of documenting the remaining intact Native American tribes of the American West. The resulting portfolio, The North American Indian, contains twenty volumes of photographs and ethnographic text. The Wenatchee Valley Museum and Cultural Center will recognize the 150th anniversary of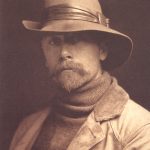 Edward Curtis' birth by presenting an exhibition displaying images selected from Volumes 7 and 8 of Curtis' portfolio along with interpretive text panels, an exhibit guide and relevant displays on loan from private collections. The images used in this exhibit have been graciously provided by the Seattle Public Library.
There will be eight programs held to accompany this exhibit including an opening ceremony with a salmon feast, scholarly talks, a film screening and a closing ceremony.
Edward Curtis programming
October 4, 2018
Edward S. Curtis members-only reception and Salmon Feast
October 5, 2018
First Friday free public opening: Edward S. Curtis
October 10, 2018
Rock Island Rapids of the Columbia – Talk with William Layman and Randy Lewis
November 6, 2018
False Promises: The Lost Land of the Wenatchi screening and fishing rights update by author and historian E. Richard Hart.
November 13, 2018
Return of the Wapato: Native Foods Emily Washines, Yakama tribal member and scholar, talks about the intrinsic link between culture and food and the heartbreaking consequences to a community when those links to the past are broken.
January 22, 2019
Story of the Wanapum People by Rex Buck, Jr.
January 24, 2019
Framing Culture in Two Takes: Edward S. Curtis vs. Frank S. Matsura
February 1, 2019
Ceremonial Closing featuring members of the Blue Sunset Singers of the Paschal Sherman Indian School and Wenatchi/P'Squosa elder Randy Lewis.