Spring Break 2017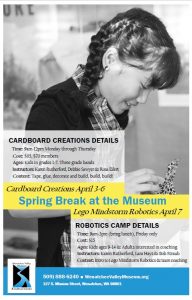 Cardboard Creations
April 3 – 6, Monday through Thursday
9am to 12pm
Give a kid a box, and they're going to have a blast! Students in grades 1 through 7 will be divided into three grade bands. They'll have tape, glue, decorations and instructions to build, build, build!
Click here to register 1st and 2nd graders.
Click here to register 3rd and 4th graders.
Click here to register 5th through 7th graders.
Lego Mindstorm Robotics
April 7
9am to 3pm
All the cool kids (and adults!) are doing it. This is an introduction to Lego Mindstorm Robotics and team coaching. Perfect for kids ages 9 to 14 and any adults who might like to coach. Taught by our own robotics experts, Karen Rutherford, Lara Hays and Bob Straub.
Bring your own lunch. It's going to be a day full of fun!
Click here to register students.
Click here to register adults.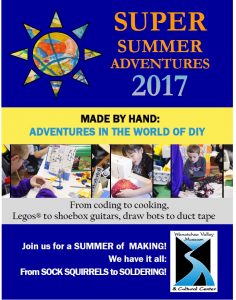 It's here! Our 2017 SSA catalog offering weekly enrichment classes for students entering 1st through 7th grades. There's a wide variety of morning and afternoon classes for kids entering 1st through 7th grades: science, art, robotics, cooking, drama, engineering, film production – something for everybody! Morning classes are from 9 a.m. to noon; afternoon sessions are 12:30 to 3:30 p.m. All classes are at the Wenatchee Valley Museum except where otherwise noted.  Stay tuned for registration information.

Sign up now! 

Inspiration Station in Coyote's Corner
Family Programs – Special "family fun" days include Family ArtVentures (in cooperation with Wenatchee Art Educators Consortium), Explorer Day, Ice Age Adventures, the Regional High School Art Show, Spring Break Adventure Camp and Christmas Family Fun Day.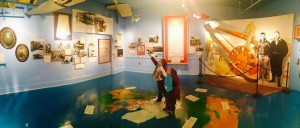 Museum Tours – guided or self-guided group tours to fit specific curriculum needs or interests. Popular themed tours include apple industry, First People (Clovis and Native Americans), Washington State history and occasional downtown art walks. Tours may be booked Mondays through Saturdays from 9:00am until 3:00pm. Please reserve in advance if you would like a guide or if you are a large group. For school groups, at least one adult per six students is required. To arrange, call (509) 888-6240.