Environmental Film: The Buzz on Native Bees
Tuesday, April 18: 7pm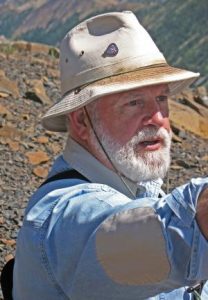 Most people have no idea that there are at least 600 species of native bees in Washington State. Some are yet to be discovered, and many (about 10 percent of species in Washington State) do not have names.
With meticulous care, Dr. Don Rolfs, a life-long naturalist and retired dentist, is building a field guide. He hopes to inspire an appreciation for the rich diversity of native bees and their vital role in pollination. "If we care about flowers and food, we should care about native bees," Rolfs says.
Sponsored by Wenatchee River Institute, this hour-long slide show and talk is part of the Wenatchee Valley Environmental Film Series. A $5 donation is requested. Series sponsors are The Trust for Public Land, Chelan-Douglas Land Trust and Wenatchee River Institute. A no-host bar and small snacks are available.

Earth Day Science Fair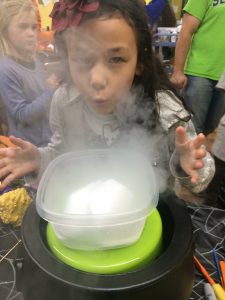 April 22nd, 1pm – 3pm
This FREE event at the museum includes LEGO Robotics and Apple Sorter demonstrations, earth science activities, a water filtration station and much more! We will have hands-on science stations run by scientists in the Wenatchee community. Make sure you don't miss out on this fun family event!

Wells House Revealed
May 12th 4pm – 7pm
This Fundraiser is a rare opportunity to tour the Wells House from the turret to the basement and all the hide places in between. Enjoy refreshments, Champagne, wine and hors d'oeuvres as we toast the newly completed restorations and showcase what's to come.
Historic Home Tour
Sunday, May 21st: 10:00am – 4:00pm
A tour highlighting homes and properties listed on the Wenatchee Registe
r of Historic Places and homes of historic significance in the Wenatchee Valley.  There are seven buildings on the tour this spring, most of them from the City's historic Grandview Historic District. Additional tour highlights include the "Home of Peace", Miller Street Mausoleum, the Gensinger House in East Wenatchee and Wenatchee's Wells House.  There will be a reception  at the museum following the tour.  Click here for tickets!

Native Heritage Tour: Moses Coulee
Saturday, June 3rd: 9:00am – 5:00pm

NEW TOUR! Explore significant cultural sites of the Sinkiuse people including paint gathering, projectile manufacturing and cave locations with guide Randy Lewis.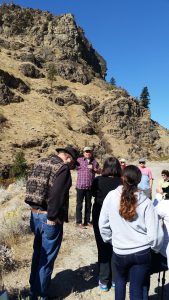 Randy Lewis grew up with a strong understanding and sense of place within Native American Columbia Plateau indigenous society. Lewis traces his roots to the Wenatchi band. His life experiences includes fishing at Celilo Falls before waters from the construction of The Dalles Dam inundated the Columbia River site, putting an end to an 11,000-year-old 9-mile-long indigenous fishery. Besides Wenatchee Heights and Celilo Falls, Lewis lived with extended family in Okanagan County and Ellensburg. All of those different experiences contribute to the wealth of knowledge he is eager to share. Lewis' enthusiasm for the history of his people, the stories of his ancestors and their relation to the surrounding landscape comes from a hope for deeper understanding and respect of ancient cultures.
He hopes that deeper appreciation will transcend to how people approach the discovery of Native American artifacts.  Get your tickets now!

Ice Age Floods Trail Tour
Sunday, June 10th: 9:00am – 5:00pm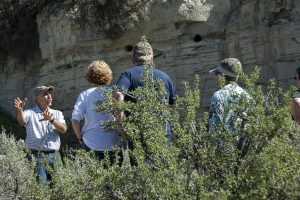 Ice Age Floods trail tour includes stops at Three Devils Cataracts, Moses Coulee, Glacial Erratics & Dry Falls.
Tour Guides are Brent Cunderla and Ken Lacy.  Brent is a retired geologist from the Bureau of Land Management. He is current president of the Wenatchee Valley Erratics, a chapter of the Ice Age Floods Institute. Ken is a board member of the Ice Age Floods Institute. Both are passionate about sharing the story of North Central Washington geology.
Tour includes:
Boulder Park – features many erratics scattered by the ice sheets
Withrow Morraine – the southernmost border of the ice sheets.
Pillow basalts between Douglas and Waterville
Possible stop at the Waterville Museum if time allows
Corbaley Canyon – a volcanic dike fissure
Giant boulders that show what happens when subjected to the freeze/thaw cycle.
Three devils cataracts
Gravel bar of Moses Coulee
Kettles, kames and eskers
Malaga Tour
Saturday, July 8th: 9:00am – 3:00pm 
On this geologic venture we will first visit two locations where gold has been mined within the vicinity of Wenatchee, Washington.  Mining for gold started almost 150 years by the Chinese around 1870 in an area that later became the location of the Gold King/Lovitt Mines.  In 1985 the Cannon Mine opened and operated for about 10 years producing more than one-million ounces of gold and in excess of two-million ounces of silver before closing in 1994 due to lack of mineable reserves.
Several unique geologic features will be observed along the field trip route.  These include Saddle Rock, Owl Sisters, and Stemilt Pinnacles.  All these features are known to have Native American significance.
Imagine a wall of water almost 1,000 feet deep encompassing the Wenatchee valley.  The Ice Age Floods story will be highlighted at several stops along the field trip route.  The enormous Pangborn Bar, thousands of bed-load boulders rolled from distance locations, and the Moses Coulee flood bar are a few of the specific features that will be observed.
Our last stop on the field trip excursion will be at the Malaga Springs Winery.  The site lies at the base of Jump-Off-Joe Ridge high on the hillside south of Malaga, Washington.  An overview of the unique geology and Ice Age Floods story will be explained at this stop best due to the great scenic vistas from this location.  This will be our lunch stop and time will allow wine tasting.
Wellington Tour
Saturday, Aug. 19th: 9:00am to 5:00pm
On March 1, 1910, the deadliest avalanche in North American history swept down the snowy Cascades, burying two trains and killing 96 people. The Wenatchee Valley Museum is offering a guided tour of the Wellington site. The tour also will visit four other sites between Leavenworth and Stevens Pass that played important roles in the history of the Great Northern Railway Company.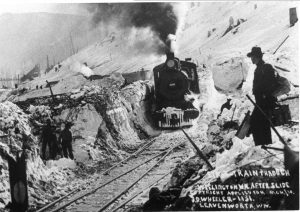 Historian and museum curator Melanie Wachholder of Wenatchee will lead the tour. Tour goers will meet at the Wenatchee Valley Museum at 9 a.m. to hear an overview of GNR history, view photos and artifacts from the Wellington Disaster, and board a tour bus. The bus will then will travel west on U.S. Highway 2, stopping for discussion at several points of interest. The final stop will be the interpretive site at Wellington, where participants will have lunch and take a half-mile walk around the area of the disaster. Those who wish may take a longer hike along the Iron Goat Trail.
Buy your tickets now!

The Great Escape Geology Tour
Saturday, September 9th: 9:00am to 5:00pm
Ice Age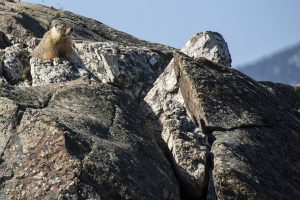 Floods using the Grand Coulee and the Upper Crab Creek drainages, filled the Quincy Basin at a rate up to 16.5 million cubic meters of water per second. This tour will examine the incredible erosive consequences of the floodwaters escaping the Quincy Basin, via Lynch, Potholes and Frenchman Springs Coulees. In addition, we examine the eight mile wide Drumheller Channels, through which most of the Quincy Basin floodwaters drained largely down the Lower Crab Creek drainage, toward the Columbia River at Beverly, Washington.  Reserve your place now!
Fire and Ice Geology Tour
Saturday, October 14th: 9:00am to 5:00pm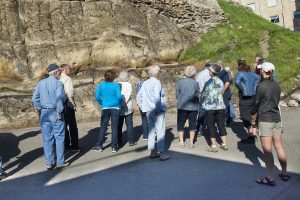 Tour shows you the site of the largest landslide to have occurred in the country. You will learn to read and thereby understand the features of the basalt cliffs. Once upon the Waterville Plateau, you will see evidence of the continental ice sheet that once covered this area: Withrow Terminal Moraine, Kames, Eskars, Drumlins an Kettles. See the Grand Terrace At Brewster and the source of the Glacial Erratics that cover so much of the Waterville Plateau. Finally, we will see the volcanic feeder dikes at pine canyon.  Grab some tickets now!