Celebrate the 50th Anniversary of Historic Moon Landing with the Wenatchee Valley Museum & Cultural Center
The Wenatchee Valley Museum & Cultural Center celebrates the 50th Anniversary of the historic Apollo 11 moon landing on Saturday, July 20th from 10:00 a.m. to 2:00 p.m. This event is an open house with hands-on STEM activities and space-themed crafts. The event also includes snacks, NASA Apollo mission videos and more. Tickets may be purchased at the door for $5 per family. For more information about the event visit wenatcheevalleymuseum.org or call 888-6240.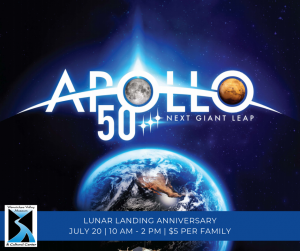 On July 16, 1969, astronauts Neil Armstrong, Buzz Aldrin and Michael Collins lifted off from Launch Pad 39A at NASA's Kennedy Space Center in Florida on a journey to the Moon and into history. Four days later, while Collins orbited the Moon in the command module, Armstrong and Aldrin landed Apollo 11's lunar module, Eagle, on the Moon's Sea of Tranquility, becoming the first humans to set foot on the lunar surface.
NASA will celebrate the 50th anniversary of the historic Apollo 11 Moon mission and look to the future of exploration on the Moon and Mars with a live, two-hour television broadcast Friday, July 19, and partner-led events, like the one at the Museum, taking place across the country from July 16 through July 20. For a complete list of partner events celebrating Apollo's 50th Anniversary visit nasa.gov/specials/apollo50th/events.html.