Excellence in Exhibits Awarded to the Wenatchee Valley Museum & Cultural Center
The Wenatchee Valley Museum & Cultural Center (WVMCC) received the Washington Museum Association (WaMA) Award of Excellence in Exhibits for "Beyond the Frame: Inland Bounty" at a special presentation during the 2019 WaMA Annual Conference in Spokane on Thursday, June 20. The award was accepted by Kasey Koski, Curator of Exhibits, and Melanie Wachholder, Curator of Collections. WaMA recognizes outstanding achievements in museum work by bestowing annual Awards of Excellence in the categories of exhibits, projects, individuals, and publications.
Beyond the Frame: Inland Bounty was the culmination of 3 years of work and thought on the part of the staff at the WVMCC. It included eight accompanying programs illustrating the history and connectedness to the sacred places in our region with native presentations of storytelling, music, culture, history and learning. Appreciation for this exhibit was reflected in the attendance for both the exhibit and programming. Over the four month run of the exhibit WVMCC had over 2,000 visitors. Most of the associated programming had over 100 visitors in attendance.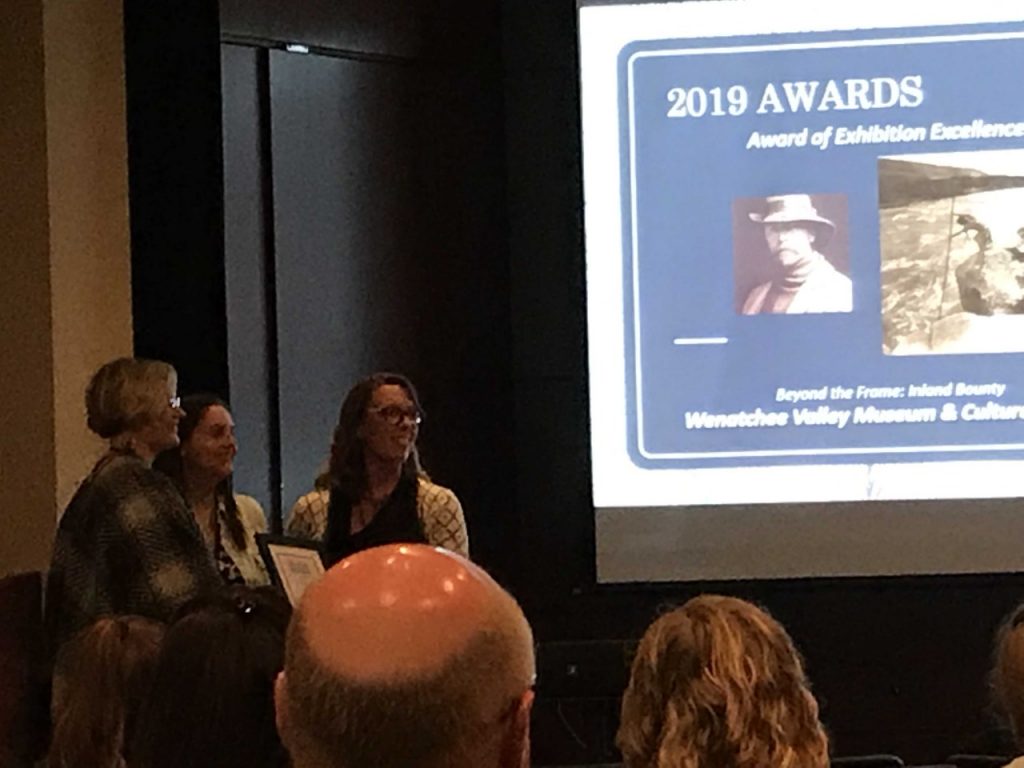 The exhibit included 10 large format reproductions of Curtis's photos as well as some smaller reproductions. The photos were suspended on a textural background of reed matting. Each photo had accompanying text from Curtis's own writings. Excerpts were taken from the North American Indian volumes 7 and 8. Artifacts were displayed that were related to each image. Thematically the exhibit covered fishing culture, food gathering, basket making, the value of horses, and Curtis's portrait work. The exhibit had an accompanying soundtrack created from some of Curtis's early recordings along-side modern recordings of native flute music from two local musicians. The exhibit also had an exhibit guide with additional interpretation of Curtis's work.
The WVMCC would like to thank the sponsors for this exhibit including the Icicle Fund, Humanities of Washington, Harriet Bullitt and the Seattle Public Library for providing the images for the exhibit and financing the digital photography of the original prints in the collection, and the cities of East Wenatchee and Wenatchee.