On this geologic venture we will first visit two locations where gold has been mined within the vicinity of Wenatchee, Washington.  Mining for gold started almost 150 years by the Chinese around 1870 in an area that later became the location of the Gold King/Lovitt Mines.  In 1985 the Cannon Mine opened and operated for about 10 years producing more than one-million ounces of gold and in excess of two-million ounces of silver before closing in 1994 due to lack of mineable reserves.
Several unique geologic features will be observed along the field trip route.  These include Saddle Rock, Owl Sisters, and Stemilt Pinnacles.  All these features are known to have Native American significance.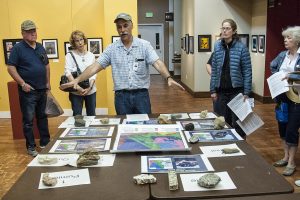 Imagine a wall of water almost 1,000 feet deep encompassing the Wenatchee valley.  The Ice Age Floods story will be highlighted at several stops along the field trip route.  The enormous Pangborn Bar, thousands of bed-load boulders rolled from distance locations, and the Moses Coulee flood bar are a few of the specific features that will be observed.
Our last stop on the field trip excursion will be at the Malaga Springs Winery.  The site lies at the base of Jump-Off-Joe Ridge high on the hillside south of Malaga, Washington.  An overview of the unique geology and Ice Age Floods story will be explained at this stop best due to the great scenic vistas from this location.  This will be our lunch stop and time will allow wine tasting.