NEW TOUR! Explore significant cultural sites of the Sinkiuse people including paint gathering, projectile manufacturing and cave locations with guide Randy Lewis.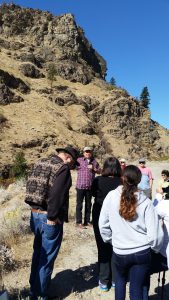 Randy Lewis grew up with a strong understanding and sense of place within Native American Columbia Plateau indigenous society. Lewis traces his roots to the Wenatchi band. His life experiences includes fishing at Celilo Falls before waters from the construction of The Dalles Dam inundated the Columbia River site, putting an end to an 11,000-year-old 9-mile-long indigenous fishery. Besides Wenatchee Heights and Celilo Falls, Lewis lived with extended family in Okanagan County and Ellensburg. All of those different experiences contribute to the wealth of knowledge he is eager to share. Lewis' enthusiasm for the history of his people, the stories of his ancestors and their relation to the surrounding landscape comes from a hope for deeper understanding and respect of ancient cultures.
He hopes that deeper appreciation will transcend to how people approach the discovery of Native American artifacts.  Get your tickets now!