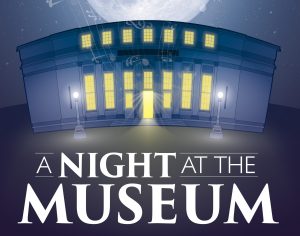 Join us for an evening like no other! Night at the Museum includes four experiences in one: A fun brewery/cider house, a relaxing coffeehouse, a speakeasy and a wine bar. Guests will enter through the Annex doors and have four distinct areas to explore:
•The apple industry exhibit will host "The Apple Crate Cider House and Brewery." Beer, hard cider and food will anchor this area, along with performer Gavin McLaughlin.
•Upstairs, Our People, Our Place will feature "Homesteaders' Speakeasy." It will have a distillery with signature cocktails, food choices and Tom McNair and the Confluence Trio will entertain with jazz music.
•Cross the sky bridge into "Coyote's Coffeehouse." We'll have coffee, some desserts and Charlie Solbrig with his acoustic guitar.
•Head downstairs into the main gallery to the "Gallery Wine Bar." This space will offer the more traditional Wine Gala experience on a smaller scale. Six or seven wineries, three restaurants and instrumental music from Jennan Oaks Trio on the stage.
Guests will have twelve sample tokens and one full pour token included. Tastings are included in the ticket price of $50 for Museum members, $55 for non-members.
Bottles of wine, beer and spirits will be available for purchase and all sales benefit the Museum. You can purchase tickets here or by calling (509) 888-6240.