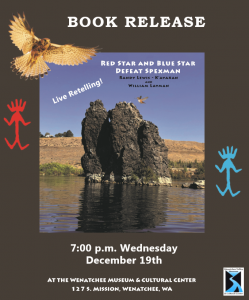 Join us for a book reading of the new book, Red Star and Blue Star Defeats Spexman by Randy Lewis and William Layman. The presentation will be held at 7:00 pm on Wednesday, December 19th at the Wenatchee Valley Museum & Culture Center. Books will be available for $15.00. Book signing to follow. The book was published by the Native River Fund of the Wenatchee Valley Museum & Culture Center with a grant from the Community Foundation of NCW.  Photographs of both the landmarks and the characters bring the spell-binding words of Lewis to life. Written for all ages, this small book makes a great gift for the holiday tree.
The book weaves a number of Mid-Columbia landmarks together. The story takes place at a critical moment in the time before humans inhabited the land. The twins Red Star and Blue Star, born at the confluence of the Wenatchee and Columbia rivers, are whisked away to a cave in Moses Coulee where they receive their šúmáx (Spirit Power). Upon emerging from the cave Coyote charges the twins with the daunting task of confronting and slaying Spexman, a dreaded water monster who devoured all who would come downriver. The boys rise to the occasion, but not before experiencing the full wrath of the monster. Their valor makes the world safe for future beings to come.
Event is free and doors open at 6:30pm.